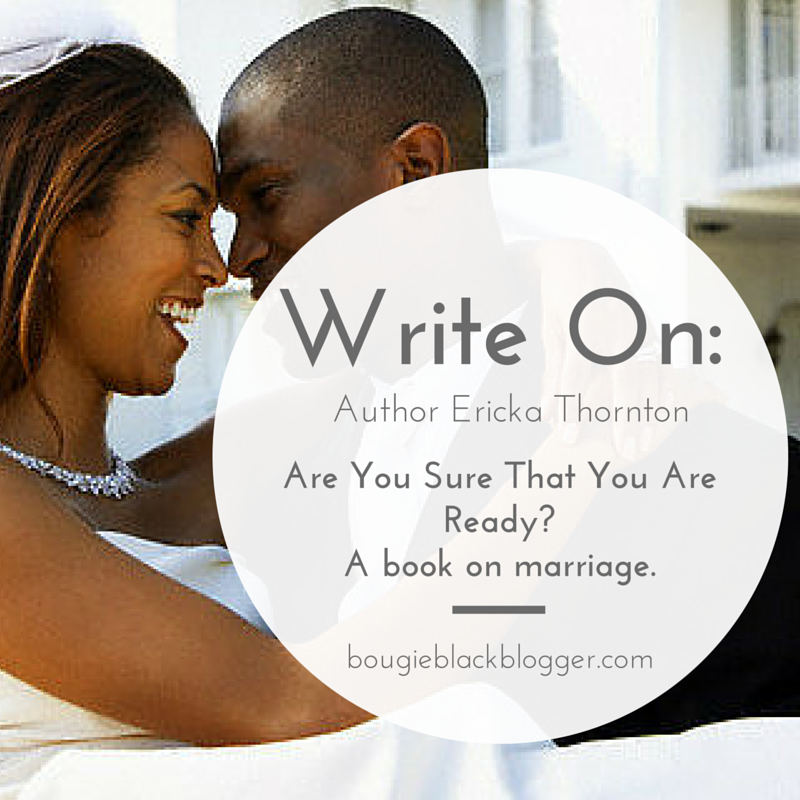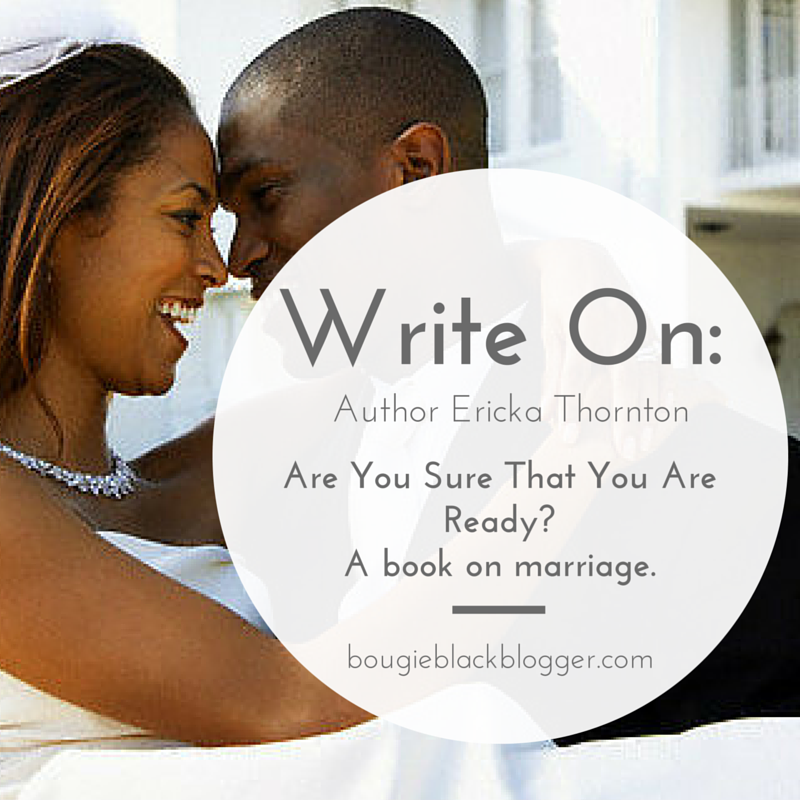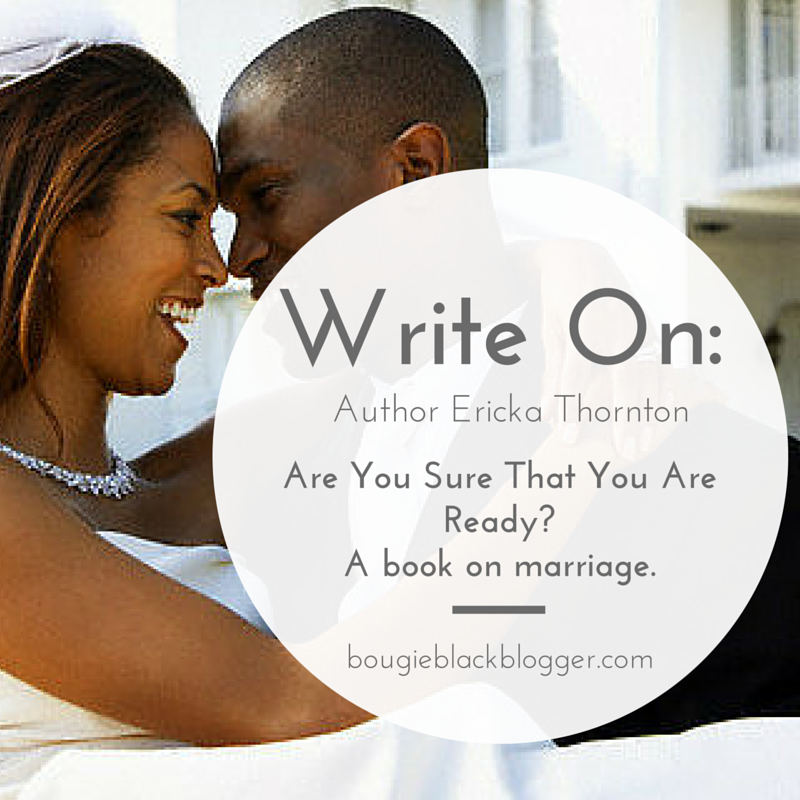 Write On: Ericka Thornton on Preparing for Marriage
---
Hey beautiful people!
I had the pleasure of interviewing a lovely lady who is a Jackie of All Trades, a true entrepreneur. Ericka is one busy woman managing three different businesses and projects. One is an organizer and I was like please come organize my life! She also makes these loaves that sell wonderfully and she is an author with a book out. We will talk more about her book as you read on in the interview.
The title of her book is "Are You Sure that You Are Ready? ~A Single's Guide to Preparing for Marriage." I thought that was a really deep and needed topic. So many of us are ready to make that huge leap into marriage with a Facebook/Instagram idea of what marriage looks like. This book will help guide our thoughts and plans about marriage. Let's get to know more about Ericka Thornton also known as Ms. E, author and entrepreneur.
So let's get to know Ms. E a little bit more:
Tell me a little about you, your hobbies and passions:
My Name is Ericka, people refer to me as Ms. E. born and mostly raised in Cleveland, OH. I'm currently single but looking forward to being married one day, once God releases me, (which I hope is REALLY soon!) Part of my passion is relationships & helping people to work things out to make their relationships WORD. If I can help a couple to listen more & have a better understanding of their mate, then I feel that I'm doing my part. Everyone needs a non-judgmental & open ear & I enjoy being able to be that.
I love to put together jigsaw puzzles, arts & crafts (mostly coloring/ painting); Word/Board games like Scrabble, Words with Friends and Bookworm, and computer games like Bejeweled & Mahjong; I also enjoy exercising, like Zumba and Kickboxing. I enjoy hanging out with my friends whether over music, movies, dinner or a comedy show are also things enjoy.
BOUGIE: So fellas if you are reading, check it out maybe you have something in common!!
When did you first start writing and why?
Actually started before I realized it – by putting notes together in an effort or organize & combine information from multiple memo pads. Upon printing it out, it looked like it could be a book. Originally, I dismissed it, but God later started using different people to speak to "completing the book," which God later confirmed that it was what he wanted me to do.
Is this your first book or how many have you written? 
This is my first book. I also completed a workbook by the same title: Are You Sure that You Are Ready? ~ A Single's Guide to Preparing for Marriage. The workbook is waiting to be printed.
Where do you get the most inspiration for your work?
Talking with a lot of men & women, married/ single going through different, yet the same things that I myself may have gone through.
What made you write this book? Who is it for? What do they need to get out of it?
God pushed me to write the book. I started out thinking I was just telling my story/ struggles/ challenges during this time and now I realize that many people can relate to it. It's for EVERYONE: men & women, married/ single; They will receive Encouragement, Confirmation, Reassurance and even Guidance, depending on where they are in their relationships.
What other businesses do you have?
I'm also a Certified Relationship Coach, the Baker behind Ms. E's Glory Loaves (cinnamon raisin bread) and the Organizer – Ms. E's Home Re-Organization, which I help people to clean and/or organize their homes and offices.
What are your future plans in writing?
There may be another book possibly in the future regarding being an Entrepreneur, or maybe a part 2 to the first book, but I'm not for certain right now.
What new skill or technique would you love to learn and why?
Nothing really comes to mind at this time – I feel that I've been fortunate to have completed/ learn what I've wanted at this point.
Anything else you would like to share, nuggets of wisdom, stories, memories etc.
Whatever it is that you set out to do, especially as it relates to being an Entrepreneur, PLEASE make sure that you are CALLED to do it!! There will be times you will feel discouraged, which is part of the business owner's process. Keep encouraging and supportive people around you to lean on – YOU WILL NEED THEM, especially during those rough patches. Be careful who you share your information/ plans with – everyone shouldn't know everything in advance, some may only need to know AFTER you've done it. You will learn who's really for you and who's not. It will be hard to accept with some, especially if it's family. God knows what He's doing, but you WILL have to TRUST the process. Keep the FAITH!!
Let's support Ms. E, a black business owner by checking out her book on Amazon or directly purchasing from her site.
To follow Ms. E check her out:
Website: www.areyousurethatyouareready.com
Genre: Self-Help/ Relationships
Social Media Info: FaceBook: facebook.com/MsE.AreYouSure (book) & Ericka-MsE Thornton (personal)
Instagram: instagram.com/mse_baker_organizer
LinkedIn: LinkedIn/pub/Ericka-ms-e-thornton
Pinterest: Pinterest/ Ericka-ms-e-thornton
Thanks for reading the BougieBlackBlogger a blog to inspire and encourage. Contact me if you need Social Media Marketing a speaker for events or blogging assistance.