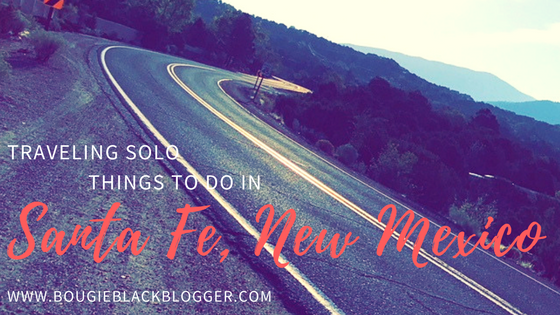 I stressed a lot when I began planning for my birthday. I knew I wanted to do something life-changing. I had the urge to do something I have never done before. Eventually, it came down to taking a mini vacation to travel solo. I tried the hardest to go to San Francisco and every time I tried to book something, Travelocity would say, "Oh we hate this, your trip just went up…" it would give me a price $300 more. It did this for about 2 weeks and I just said forget it. I have no idea how I ended up going to Santa Fe but it just happened.
When I booked it, I thought I was flying into Santa Fe, but no, when I got my ticket, it said Albuequorqi, NM and I was like huh? Where is this? I looked on the map and it was about an hour away. I was slightly irritated because now I had to rent a car. So when I got there and went the get my car rental, they gave me keys to some car and the person next to me was getting a mustang. My mouth dropped open and I said, "I want one" and they had one, a cherry red Mustang convertible. I was nervous to drive it at first, but got the hang of it and enjoyed the ride.
I drove an hour in the desert with the top down, basking in all the beauty of the mountains around me! I was so at peace. I work a lot and definitely needed this getaway.
A little about Santa Fe, NM
Santa Fe is the second oldest city founded by European colonists in the United States in 1607. Built upon the ruins of an abandoned Tanoan Indian village, Santa Fe was the capital of the "Kingdom of New Mexico," which was claimed for Spain by Coronado in 1540. During the next 70 years, the Spanish colonists and missionaries sought to subjugate and convert the some 100,000 Pueblo Indians of the region. However, in 1680, the Pueblo Indians revolted, killing almost 400 Spanish colonists and drove the rest back into Mexico. The conquering Indians then burned most of the buildings in Santa Fe except for the Palace of the Governors and the San Miguel Chapel. The Pueblo Indians occupied Santa Fe until 1693, when don Diego de Vargas reestablished Spanish control. Santa Fe remained Spain's provincial seat until 1821, when Mexico won its independence from Spain and the city became the capital of the Mexican territory of Santa Fe de Nuevo México. Read more here.
Santa Fe Is a Gem and a great place to travel solo, it is a small city with tons to do. It is about 37.33 square miles. Little traffic. So it is very good on gas and most hotels offer shuttle services in a 5-mile radius. There isn't much of a nightlife and it was actually ok, one of the reasons why I think it is a great place for solo travel. It was very safe and the people are very helpful.
The weekend I went, they were having fiestas, "Viva la Fiesta" which was held from Sept 1-11 celebrating annually to commemorate Don Diego De Vargas' peaceful reoccupation of the City of Holy Faith in 1692. Read more here. There were a ton of parades and they take their parades seriously, I got stuck in one the day I needed to drive back to the airport and they wouldn't let me out.
Things To Do in Santa Fe, NM
This was such a wild experience and it blew my mind. Everyone that asked for suggestions on what to do all stated Meow Wolf. This dope experience was like an adult playground that was full of art. I literally crawled through freezers, climbed up tiny secret spaces to other floors, jumped from future to the past in 2 minutes. It is a story and you are supposed to figure out what happened but I just enjoyed exploring. I did get sick though, sensory overload but the staff were super helpful and offered me water and told me to relax.
Explore four world-class museums presenting the art, history and culture of the Native American Southwest, the Spanish colonial past, and folk traditions from around the world! Plus a cafe and Botanical garden. I got there too early but did a little peeping!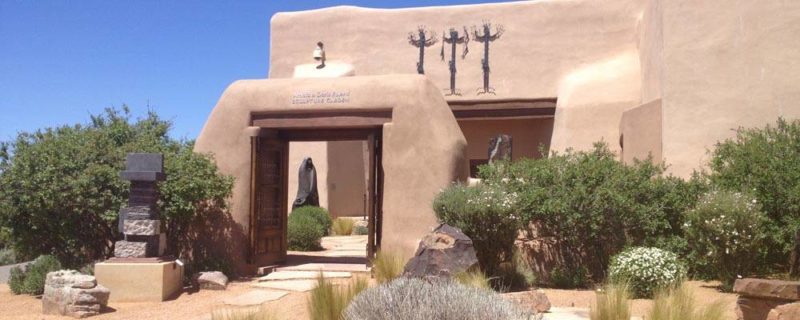 Here is where they had all of the fiestas, shopping, eating and more. It was really awesome to watch the festival happening and the people walking around and eating. There is a mall with some great deals on gift items! See videos below.
This was one of my favorite places to visit. Voted one of the "Top Ten Farmers' Markets" by Sunset Magazine, the Santa Fe Farmers' Market is one of the oldest, largest, and most successful growers' markets in the country. Click heading to read more. This place was so live with all the happy people. There was live music under the pavilion.
Railroad Artisan Market A Stroll Down Canyon Road
I met a couple of amazing artists and it definitely sparked my creative side! I heard that Santa Fe is top 5 places for artists and I can see why! Being in Santa Fe gave me a feeling where all I wanted to do was create. Two of my favorite vendors were K. Allyson Hayes of Precious Elements and she makes jewelry and sculpts and the other is Frank Osborne of Oasis Fiber, he spun his own natural haired yarn, it was amazing to watch.
A Stroll Down Canyon Road
I walked and viewed so many art galleries that had sculptures large and small, mixed media paintings and other art that I had no idea about.
Drive Up in the Mountains
One of my favorite things that I did in the morning was that I drove almost to the top of the mountain. That was the easy part, totally slipped my mind that you had to go down it. So many windy roads and steep hills to go down. The locals are used to it, they were flying up and down it. Just know that Santa Fe already is at a high altitude and that going up that mountain makes it even worse, my ears kept popping.
This gorgeous place had me at hello. The vibes were so calming and peaceful. Here they offered massages, oxygen sessions, healing cocktails and more. My friend took me to this place right before I had to leave. I got a little tour and was like I need this in my life here in Texas. I ordered the pomegranate infusion and it was amazing!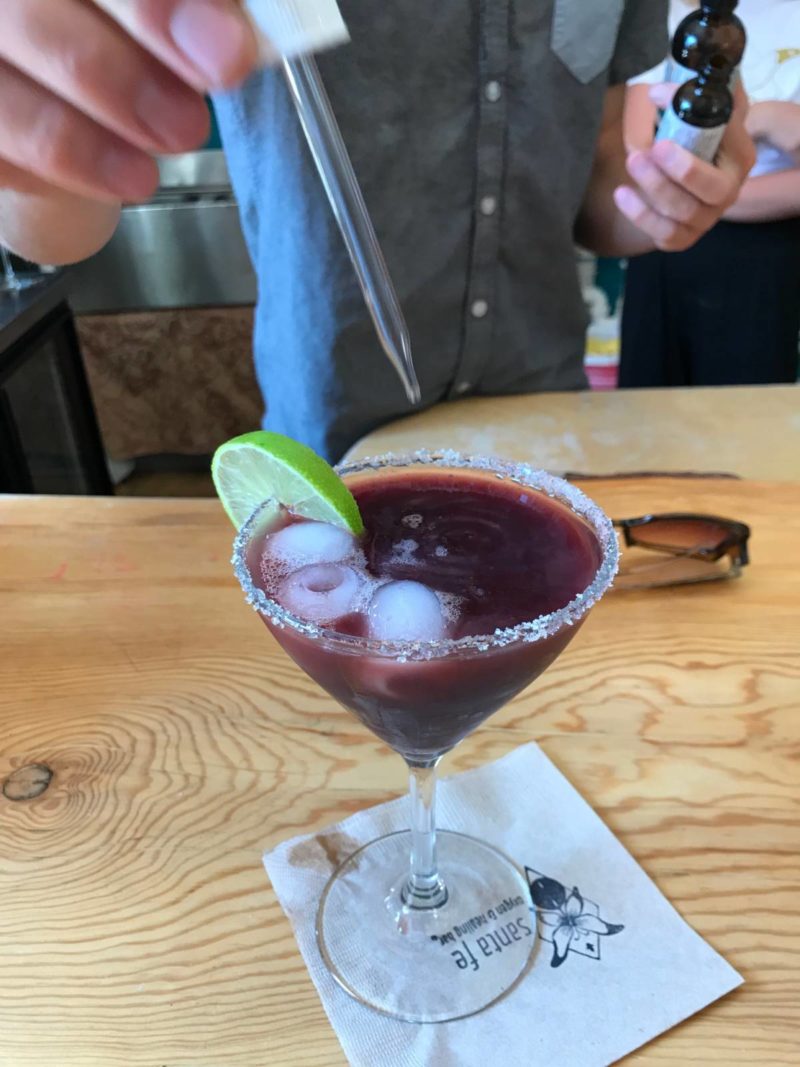 Restaurants I Enjoyed
Jambo Cafe– I ate the Jerk Chicken with rice and platanos! It was really good!
Tia Sophia's- Their Huevos Rancheros was amazing and you have to try Christmas style- green and red sauce! OH EM GEEEE
Jinja Asia Cafe– I ate their Shaken Beef and rice with veggies, it was so good.
Kakawa Chocolate House– I ordered some macaroons with honey and chocolate and some horchata. They are known for their chocolate elixirs some has chili in it! SO definitely check it out!
Check out my reviews on Yelp
Videos with beautiful pictures
Vlog
SnapStories of Santa Fe, NM
Do you travel solo? What are some places to go? What do you love about it? If you haven't, what is stopping you? Where would you want to go?
Thanks for reading, I hope you enjoyed it!
Peace and Blessings,
CicelyRenee
Thanks for reading the BougieBlackBlogger a blog to inspire and encourage. Contact me if you need Social Media Marketing a speaker for events or blogging assistance.