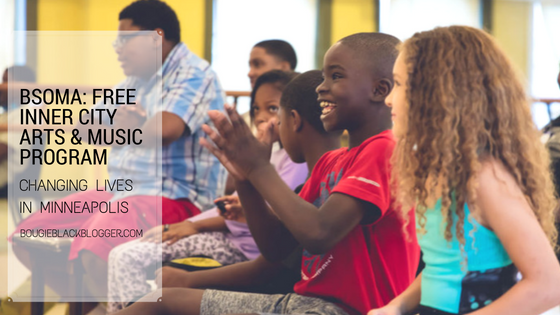 #BSOMA #ArtAccess #Minneapolis
---
As the economy continues to pull money from public and urban schools and redirects it to prisons and other choice venues, you can't help but think that the only real suffrage happening is these children's lives. Do you know how crucial it is for children to engage and really experience the arts? "Involvement in the arts is associated with gains in math, reading, cognitive ability, critical thinking, and verbal skill. Arts learning can also improve motivation, concentration, confidence, and teamwork." – Edutopia
Although, I know the sources are scarce, we need people to educate our children under the impression that it is not a privilege but a right. I watched a teacher during an art class hand out construction paper, told the students to draw on it and then fold it and they made these little crappy fans. Now I know the fans could have been doper, like creating a collage, painting or
something and making a fly fan that won't be thrown in the trash when they get to their next class. I was so angry, and then the next class did coloring sheets. But, I do know that there are some people out there who know the value of arts education with youth.
Ok, some major things are happening in Minneapolis, home of Prince, Mint Condition, and more phenomenal people like myself. My friend David Billingsley, who has played for some major people is so passionate about the arts and providing free or affordable arts education to the inner city youth.
David started Billingsley School of Music and Arts where they are seriously changing children and their family's lives. The core values are
We believe every student should have access to a high quality arts education.
Every student is precious, cared for, valued, and loved.
We provide arts education that is fun, innovative, relevant and impactful.
The infusion of formal and informal training develops a versatile and well rounded artist.
Over the summer, he had a 6-week program for youth of all ages where he brought in talented and professional artists of all backgrounds. They were singers, drummers, dancers and more. The students were submerged in this world and all I saw were smiling faces and millions of comments and pictures expressing the gratitude for the program. I really wish I could have been there to participate. See photos from the event below.
So if you believe in accessible arts for youth, please help continue building this amazing program that I see going nation-wide. They are raising money to continue this program for the youth so that it will not be a financial burden for the family. They are currently planning for next summer's program and could use your support.
Be sure to follow them and show your support:
Be sure to spread the word! THANK YOU!
Peace and Blessings,
CicelyRenee
Thanks for reading the BougieBlackBlogger a blog to inspire and encourage. Contact me if you need Social Media Marketing a speaker for events or blogging assistance.