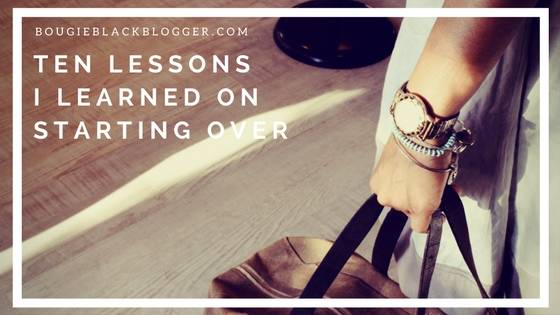 10 Lessons on Starting Over
---
Over the past two years, I have started over TWICE! Wondering how that can be? Well, the first one came from a divorce! If you haven't read my Thriving After Divorce, be sure to check it out. The second time was relocating to Dallas, TX so I feel like I have learned a lot on starting over, and I thought I would share with you!
January 1, 2015, "Starting Over Part 1" happened and this was right after leaving my ex-husband. I was staying with my mom for about two weeks until I could move into my new place and that was rough. I didn't want to talk to anyone and you know mom's they are concerned and get worried. I didn't want to worry her. Read I Got a Divorce For Christmas.
I needed my own place, to get new things and to figure out what was next. There was a lot of reflection as I sat in my own place, in the quiet, coming to terms that the dreams that I once had with a certain person will not happen. During that reflection time, I realized my wants, and what I was held back from doing because I was married so I decided I was going to move. I had no idea where but I wanted to leave Minnesota and get a fresh start. I ended up here in TX without a job and staying with my aunt, literally starting from scratch, "Starting Over Part 2".
10 Lessons on Starting Over

:
People expect you to be hurting and struggling– This lesson comes from the divorce stage. I have had remarks on how I am doing so well and they were shocked. People thought that I wouldn't have furniture and should be eating on paper plates on an air mattress… News flash, having good credit you can finance that ish! But the real lesson here is why shouldn't I create a space of peace in the midst of all the madness? Although, I am frugal I was coerced into financing furniture and I was not too happy about it which leads me to my next lesson.
Take it slow… no need to rush into buying things and being in debt. This time, I only bought a bed and a sofa. As the weeks went on, I would buy things I felt I needed and have begun to create a space that I love rather than out of feeling like I needed to have my ish together from day one!
People think you are brave– I didn't realize people were really looking at me, watching me and admiring me for starting over and doing something different. I was in the negative mindset thinking people wanted to watch me fail, although may be true for some people, most of the people I know are cheering me on! Those are the type of people you need in your life.
Trust your gut- Not everyone needs to be in your life, and not everyone or everything needs your time and attention. Time is money and you cannot get time back. 
Don't give if you don't have it– Big Big Lesson, I am too nice sometimes and people abuse that. I am literally starting over, fresh divorce and a certain somebody who shall remain nameless although I want to be super petty and put them on blast, asked to borrow some money and proposed it like a business deal but lesson learned and I never got my money back.
You can reinvent yourself– I came down here and was like, I can choose a new career I can learn new skills and just do things differently. I have been speaking up more, joined a megachurch and working on a career change! This blog came out of the reinvention of self. I decided I wanted to help people with their businesses, in marketing and more. Life is too short not to truly live.
Having to meet new people is fun, scary and sometimes hard- What I have learned is that people aren't used to change and they can be a bit skeptical with letting you in their circle which is understandable. Most weekends, I sat at home blogging or just chilling, missing my mom and aunt who are the people I hung out with the most. But what is cool is that I am in a different age bracket now, people do ADULT things, and I love it. People have skills and talented and that excites me. I have learned that you just have to stay on their radar and eventually you will be pulled in.
Enjoy the process– The process is life and not only enjoying it but also taking in all the lessons. I personally believe that what we go through is not just for ourselves but for others as well. One day, you may find someone who is going through what you went through and you can help them because you came out alive 🙂
I can do anything– I am a believer in God and I realized I can do anything I set my mind to that aligns with His word. I am reaching new levels, doing things I have never done before and doing things I never imagined.
It is a mindset– Starting over doesn't necessarily have to be a physical move but if definitely is a mental thing, a mindset. Your thinking has to change one way or the other for things to really come into fruition. Also, you can start over every day with different life changes you want to incorporate in your life.
Those were just 10 lessons I learned but there have been plenty more.
Have you started over? What were some of your lessons that you learned that could help others out? Comment below. 
Recently, I had my one year anniversary here in TX, Dec. 18, 2016, made it one year and boyyyyy was it an adventure. Check out the vlog below.
Thanks for reading the BougieBlackBlogger a blog to inspire and encourage. Contact me if you need Social Media Marketing a speaker for events or blogging assistance.