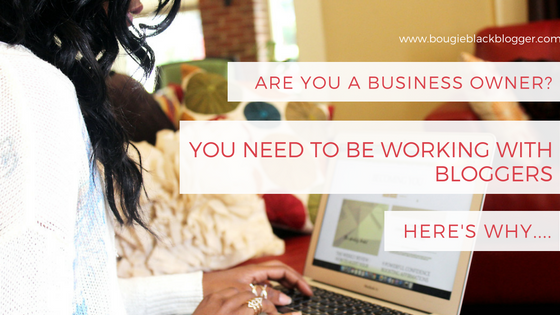 Greetings beautiful people,
There are so many bloggers out there that specialize in certain niches or encompass many subject areas such as my blog. Bloggers, both amature and professional are reaching audiences that you have not reached. Many bloggers will say their blog is their business and rightfully so, we have a product/service= posts, we know how to market and turn clicks to sales= subscribers, clicking links, visiting specific sites. Why not use their arms to spread your product or service.
Before just choosing any random blogger, you want to do your research.
Are they tapping into the audience you want to reach?
Are they active and engaging on social media?
Does their brand align with your business?
You can also go a little further and connect with vloggers/youtubers. Kim from, CurlMix does this really well. She connected with very popular vloggers, mainly natural hair and I won't say how the contract was made but this video below got 41,000 views
Blogs are today's popular opinions in news papers, people go to them and they trust their influence. This can be really big for you. Think about it, you have a tee shirt brand, you send it to an influencer and their where it, shout you out and list all of your contact information for people to buy. Exposure is everything.
Top 6 reasons business should work with bloggers:
They already have an audience and if they are good, their audience is growing.
They have many landing places for the post. I personally am in over 100 groups which brings me to number 3,
They want their blog to grow too! I push my content in specific groups that would relate to that topic. Say I have an art post, I have group that are focused on the arts. I wouldn't put it in a car care group.
SEO, they have it and know how to use it. (SEO is short for Search Engine Optimization, and there is nothing really mystical about it. You might have heard a lot about SEO and how it works, but basically what it is is a measurable, repeatable process that is used to send signals to search engines that your pages are worth showing in Google's index.)
Helps build your reputation, increase sales and drive traffic to your site/business.
They know how to write a catchy title and are great writers. They know what their readers like. So more than likely their audience will definitely read more and a lot of them will share.
I know for a fact, bloggers love working with brands, so why not use them? Big brands caught on, now you should too!
There are many ways you can work with bloggers
Send them your product free of charge so they can sample it/wear/use it. Smile Brilliant reached out to me to use their teeth whitening system. I was able to try the product free of charge and blog about it. They even threw in a giveaway and a discount code for my readers. Readers, love free and discounted things as well.
Pay for a blogpost. Maybe you do not have a product but a service, you can pay them their fee for a sponsored blog post. I worked with Groupon, I did not have to use the service but I talked about it. You can give them guidelines on how you want them to write it.
Use their social media for marketing. Many bloggers have amazing SnapChats, Instagrams and Twitters where you can pay for them to share what you need on there.
Use advertising space on their website.
You may already know of a blogger or few, check in with them, ask them how to connect with others. Remember not every blogger is the blogger you want to build your brand.
Characteristics of Bloggers- think about your audience, your product and what you want and find bloggers with the same characteristics. 
Are you selling natural body products? Find bloggers that write about natural living, self-love, healthy living and other areas like those.
Are you selling a relationship book? Find bloggers that love talking about dating and relationships.
Are you selling pro-black wear? Find problack bloggers that love talking about areas in that arena.
Are you a real estate agent? Find bloggers in those particular cities to blog about it. They can talk about 10 Best Things to Do in this ______ City or something similar.
Are you hosting an event? Invite them for free and they will take pictures, blog about their experience and share on social media. My personal favorite. Here is one event that I did and was a part of the "PRESS" Women of Bad Boys Brunch.
Are you a fitness instructor? Find fitness bloggers, there are so many of them.
There are endless ways to work with bloggers, here is how you do it:
Find their email and email them a proposal or a letter of interest. Basically, you want them to know that you have seen their work and you like it and would love to work with them.
Build a relationship with them before the ask. Add them as friends, share their posts, like their page etc. Then go in for the kill.
If you are ready to start working with bloggers, let me know. I know so many of them and they are always looking for new opportunities.
Just remember, most likely, they will not do it for free so think about how much you want to invest in the marketing of your business. Can you afford to give them a product? Can you pay between $25-150 per post?
Bes sure to stay tuned for more posts. Be sure to share with business owners so they know what to do and how to connect.
Peace and Blessings,
CicelyRenee
Thanks for reading the BougieBlackBlogger a blog to inspire and encourage. Contact me if you need Social Media Marketing a speaker for events or blogging assistance.