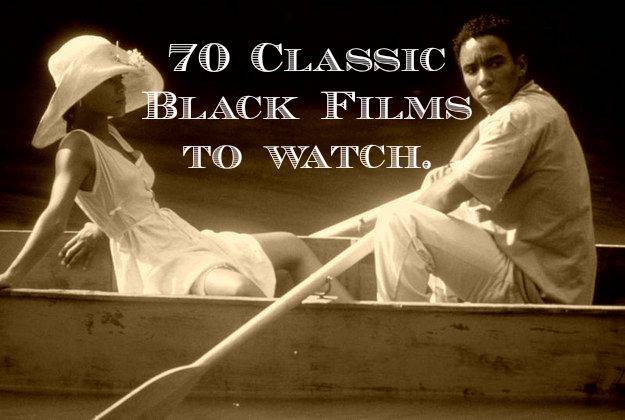 70 Classic Black Films to Watch
---
Buzzfeed created this amazing list of Classic Black Films to watch and I went through it and watched at 39 of them… Man, and going through these brought back so many memories. Original post is here .
Here are a few:
Coming to America (1988)
Paramount Pictures
Written by: David Sheffield and Barry W. Blaustein (story by Eddie Murphy)
Directed by: John Landis
What it's about: The heir to the throne of Zamunda (Eddie Murphy) wants to sow his royal oats and debunk tradition by searching for his own queen. Naturally, he and his trusted manservant Semmi (Arsenio Hall) head to Queens, New York, to live as impoverished college students who work as custodians at a McDonald's rip-off while he woos the woman of his dreams.
Why you need to see this: You'll finally understand the Sexual Chocolate meme you see circulating the interwebs.
Do the Right Thing (1989)
Universal Pictures
Written by: Spike Lee
Directed by: Spike Lee
What it's about: It's the hottest day of the year in New York, and the colorful characters that pizza delivery dude Mookie (Lee) encounters in Brooklyn's Bed-Stuy neighborhood set the day in motion. Buggin' Out (Giancarlo Esposito) doesn't like that local pizzeria owner Sal doesn't have any black folks on his wall of fame. He starts a protest that's supported by Radio Raheem (Bill Nunn) and Smiley (Roger Guenveur Smith), and, well, let's just say that the neighborhood isn't the same after.
Why you need to see this: It's one of Lee's best films, and it earned him and Danny Aiello Academy Award nominations. It also tapped into the cultural undercurrent of inner-city neighborhoods.
Poetic Justice (1993)
Columbia Pictures
Written by: John Singleton
Directed by: John Singleton
What it's about: Justice (Janet Jackson) is unnerved when her boyfriend (Q-Tip) is killed at a drive-in while sitting next to her. She's deeply depressed and writes original poetry as her solace. She meets and immediately dislikes Lucky (Tupac Shakur) and argues with him when the two find themselves stuck in a postal van on a road trip to Oakland with their friends (Regina King and Joe Torry). They eventually fall for one another.
Why you need to see this: Jackson and Tupac kiss! And it's glorious! They also make some interesting stops along the way to Oakland — they stumble upon a family reunion and Lucky encourages them to just pretend they're part of the family.
My favorite ones that I can remember are, and not in any particular order:
Love Jones
Eve's Bayou
Claudine
Mahogany
The Wiz
And too many more….
Check out Buzzfeed's list and see which movies you have not seen!!! What other one's would you add to the list?
Happy Thursday!!! BTW Today is my BIRTHDAY!!! Send me some Love!!! 🙂
CicelyRenee
Thanks for reading the BougieBlackBlogger a blog to inspire and encourage. Contact me if you need Social Media Marketing a speaker for events or blogging assistance.