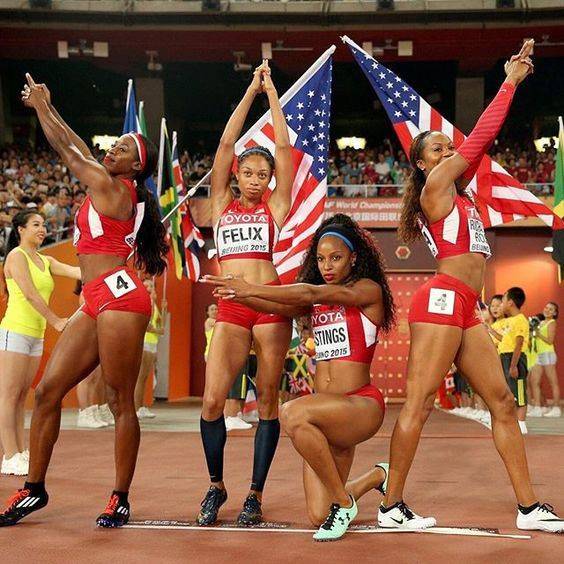 #RioOlympics #Carefreeblackgirl #TeamUsa 
---
The Rio Olympics 2016 is so exciting and I am here for it! Are you?
The Olympics is such an amazing event where people come from all over the world to compete in sports that they train so hard for. All day, pretty much everyday, they are doing something they absolutely love. Some are just gifted and others train to get there.
How many of us can say that we are being paid to be the best we can be and not paid to make a company the best they can be? How many of are training to get better at what we are good at?
It is not rare for children to know what they are good at or what they want to do but some how or someone children grow up with out those skills and dreams being nurtured. But for many of these athletes who are competing have been doing this for a very long time and someone saw their gift and helped it grow. I am so glad for it!
5 Dope Reasons Simone Biles, Ibtihaj Muhammad, and more olympians are a true definition of Carefree
As beautiful as Simone and Gabby are, people (black included) stay talking about their hair. It is so unfortunate that as amazing as they are, attention gets thrown back to their hair. But the reason they are so dope and carefree is that they could care less about what you say, they are playing in the Olympics, and you are watching them…. 
No matter how physically or spiritually  different we are, we are all humans and want to enjoy similar things despite those differences. Ibtihaj Mohammad said, forget you and your "norms" I am going to FENCE with a Hijab on and DOMINATE you! Man, how dope is she! Come on now, so many of us change things about us so that we can fit in and try to be less threatening. Ibtihaj said no, not today or ever.
What is Rugby? I have no idea but Bui Baravilala and Victoria Folayan knows all about it. I remember doing so-called "white people" things and being talked about. But these so-called color things needs to take a backseat and people need to do what they love to do without the hate and discrimination. Can you imagine people enjoying life despite what people categorize as racial activities? People will be so much happier. Which brings me to my next point…
Back in 2013, a reporter asked,'Why are there no black swimmers? Because their physical features don't suit the sport.' Ciaralli also said that black people 'may not have some of the necessities to be, let's say, a field manager or a general manager' and that they aren't good swimmers because they 'don't have the buoyancy'. WELL…. there are black swimmers and they sure can swim. I remember growing up and even today, I talk about going swimming and my black female friends say, "Girl, I don't go swimming because of my hair!" But I am glad there are some that have a love for swimming and they are so dope with their carefree selves. Lia Neal and Simone Manuel, thank you for doing you! 
This picture enough speaks volumes on being black and carefree. Fierce, Slaying and Carefree, these ladies are amazing! 
NBC has this great article called Black Olympians to Watch in Rio 2016 Competitions visit to see more dope athletes doing what they love!
I am all for #TeamUSA but I celebrate all of those who worked hard to get where they are at. Those beating world records and showing and proving that determination and practice will get you far.
What are your favorite events? Who are your favorite olympians? What do you think about Rio 2016 Olympics? 
Thanks for reading the BougieBlackBlogger a blog to inspire and encourage. Contact me if you need Social Media Marketing a speaker for events or blogging assistance.