Lately, I have been into podcasts, mainly because of my long commutes to and from work. At least 20 minutes in the morning and 45-55 mins on my way home in the evening. Great time to listen to some amazing podcasts. One of my favorite podcasts right now is Super Soul Sunday with Oprah Winfrey and it has been life changing, thought provoking and eye opening. The latest episode was with Pastor A.R. Bernard about his latest book and although so many profound thoughts that had my mind turning and heart beating, there was this one thought though, about your purpose. He stated, "Purpose is not static, purpose is dynamic" and he goes on to say that our purpose reaches new levels. "Gifts, talents, and abilities that are given by God remain consistent, but how you apply it changes as you live life from level to level"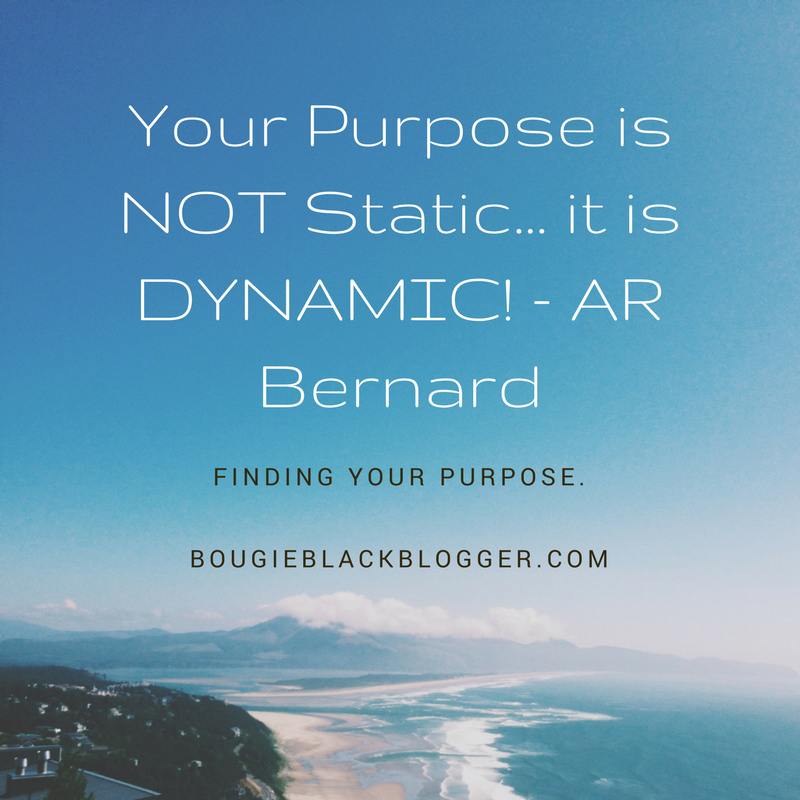 Recently, I went on a solocation for my 33rd birthday and I felt that I needed to have a moment of enlightenment, I needed a spiritual awakening and this podcast just confirmed many thoughts that I had about feeling stuck and wondering what is next. I wanted to know what my purpose is.
In the podcast, AR Bernard said that if purpose was static and you reached your purpose-filled moment at a certain age, then what is there to live for. For some reason, I thought that once you experience your purpose you are done with life but I realized, that I continued to be living in my purpose in different situations.
When Did You Know Your Purpose?
Ever since I was young, I always loved two things, being a resource and children. I loved babies! I wanted to care for them, teach them, provide for them, love them, encourage them. As a resource, I seemed to always be the go to person! People were always asking me questions on EVERYTHING! Every job that I had, I always shared the information with others to help them out. Whenever I had information and shared it, it made me excited. I loved seeing others prosper. I was about 21 years old (12 years ago) when I literally heard my purpose, but it wasn't until I was about 26 years old when I started to live it. My purpose was to show love to everyone who needed it!
How Did You Know Your Purpose?
As I reflect, I know that I didn't know my purpose at the very moment, it was just a phrase that stuck with me, and subconsciously it became part of what I did and what I loved. My godsister Jalayna was about 4 years old and her mom told the story of what she said to her teacher. The main point was that the world needed more love because there was too much hate. It is something that is constantly in my thoughts especially when dealing with challenging people. Phrases in my head that would flow out my mouth, that I never really thought about, for example, one would be, "I have so much love to give" or "love is so beautiful" it is funny how you reflect on things and see those defining moments so vividly. As I write this, I think about all the broken people that were attached to me, were reaching out and all I did was show love, unknowingly. I see that I am peace and love in the midst of chaos for people. Rarely, will you catch me stirring trouble or fighting/arguing, I am one of the calmest people ever which help in such a chaotic world.
Can You Have More Than One Purpose?
I am a firm believer that you have one ultimate purpose but it can be lived out in different ways. Your purpose is used vertically and horizontally. That just means that your gifts, talents, and abilities on a horizontal level can be used in many different situations on a daily basis and when it comes to vertical, it just gets bigger and reaches more. Always remember, A man's gift makes room for him and brings him before great men (Proverbs 18:16).
Take, for example, ME, my purpose is to show love. The many ways I do that is my full-time career as a Special Education teacher and as a coworker, my day to day interactions with people, my blog and more. Even though not being fully aware of my purpose, my blog had a theme of showing love in various ways.
I Asked People What Their Purpose Was and Here Were Their Responses:
Trying to sort this one out still
Good question and we will all figure it out later in life
My purpose is to Enlighten Perspectives, Inspire Action and Empower greatness. Short version: To help people see things differently
Help young professionals build a career. I knew when I became obsessed with career advice and had to overcome my own battles with building a career
I feel that my purpose is to inspire people. It's when I feel most alive and connected to the universe
Raising a king and 3 queens, and I realized it the day I set my eyes on my first born
My role is to help others use their purpose. And to let others know that it is okay to embrace their individuality.
For some of them, I asked follow-up questions:
You don't think people know now?
What is a common theme you have seen in your life?
So when you think about 25 years from now, is that your purpose still or has it evolved?
So your purpose came when they were born? WHat was your purpose before they were? Or were you being groomed for their arrival?
So many people are lost trying to find their way. But people already know deep down their purpose in life but there is just so much going on that it gets faded in everyday life. Sometimes we get stuck in a routine or a familiar place and we don't even think about your purpose. I did some research as well as pulled from my own experiences on how I found my purpose. I want to share with you those ways.
10 Ways to Finding Your Purpose
Now grab a piece of paper, pencil and sit in a quiet place. Go through these questions, all or just a few and really think about them and write your answers out. Be honest, write with as much detail as possible and don't hold back.
Reflect on all of the big events that have happened in your life that have shaped you the most, write it down, give it a theme or find keywords that relate
What are things you think about and get excited about the most?
Look at your social media's "Recommended for you" this is based on things that you like, follow, share, comment and search for
Think about the repetitive things in your life, this can be people seeing something in you, the path that keeps leading you to something, even something you are running away from. Your purpose can be something you are scared of.
Look at the things you are most passionate about- is there a theme?
What are people saying about you and to you?
What are your values about life that drive you?
What are your favorite quotes to live by?
Who are the people you look up to and what are the reasons why?
If someone were to tell you they were going to kill you for something you believe in, what would it be and why?
Now look it over… what are the most eye-catching comments that you wrote? What is standing out to you that could relate to a passion?
A quote I live by:
Find something you love to do and you will never work a day in your life. -Unknown
This was something I strived for the past 10 years and I can say that most of my work is pretty much, showing love. Whether it is giving someone my last, helping in the time of need, giving someone a hug, letting people know you are there for them. As a teacher, the way I show love is believing in students even when they do not believe in themselves. I advocate for them, forgive them over and over even when they get on my last nerve.
One thing I know for sure is that my purpose is bigger than myself and that is a beautiful thing.
TedTalks Videos To Help You Find Your Purpose
So… what is your purpose? Do you know? Do you want to find out? How did you know?
Be sure to comment below or even email me at info@bougieblackblogger.com.
Thanks for reading! Hope you share!
Peace and Blessings,
CicelyRenee
Thanks for reading the BougieBlackBlogger a blog to inspire and encourage. Contact me if you need Social Media Marketing a speaker for events or blogging assistance.