The thing about being single is, you should cherish it.
Because, in a week, or a lifetime, of being alone, you may only get one moment.when you're not tied up in a relationship with anyone.
One moment, when you stand on your own.- Alice, How to Be Single
Greetings beautiful people,
Time to start the countdown to Christmas and New Years and life in general. So much emphasis on relationships and kids during the holiday seasons and as singles who may have no children, it can be a bit heartbreaking. I swear up and down, I was going to be married with kids at this age, but nope… a divorce and no beautiful children. It is something I am dealing with especially when they put time limits on women's bodies. But right now, I am enjoying the single life most of the time. I am also, enjoying the childless life as well, knowing I can do whatever whenever and that is cool.
I am on the HP Millennial Panel where they send us products to review and the latest gift I received was this photo card and invitation kit and to create something Christmassy. Of course, I wanted to create a cute picture card with me and my family but my family doesn't live near me. So I was like why not create a card with just me on it, and that is exactly what I did. I was like, you are cute girl and people would be honored to have you on their wall 🙂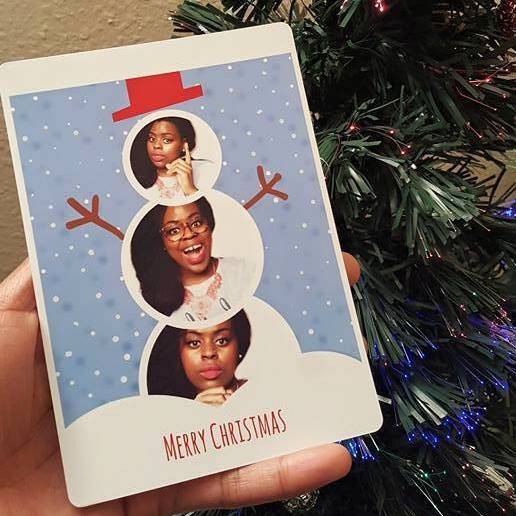 \
I have been seeing so many things to do in Dallas to celebrate the Christmas season and am like, it would be so cool to do these things with someone you can flirt with and be all romantic with! But then…
So instead of being sad or lonely during the Christmas season and any other day/holiday why don't we create single life traditions where we can always look forward to something without being attached. My favorite single anthem movie right now is How to Be Single, and it had an awesome message where it made me realize, why do I have to wait to be with someone or have kids to do the things I want to do. Life is too short and I am still so young to be hiding in my apartment blogging for the world.
The world and even my city has a lot to offer and you and I should explore it and make it a tradition.
Single Life Traditions ideas:
Create Christmas cards with you on it, your dog, your favorite things, for example, I love wine, I plan to take photos of me with a bottle or a glass of wine. You may love fashion and you may want a Christmas Card that expresses your love for it. Whatever you love let it shine through on that card and don't be ashamed to share it with others or just keep it for yourself.
Put up a Christmas tree– A tree can go up and you can put gifts under that bad boy. Gifts may be for you or friends and family.
Moviethon– I don't know about you, but I will be in Dallas with 2.5 weeks off of work and not going home, so I will be watching all the Christmas movies my little heart desires.
Exotic trip– Maybe your tradition can include traveling to a new or the same destination every year. Maybe a photo you took could be on your Christmas Card for next year!
Volunteer– This is something I plan on doing, especially since I have the time off, I will be volunteering and looking for opportunities to do so. Great way to stay connected with people.
Adopt a family– Find a family that you can spend Christmas with, or even a child to give gifts and hang out with.
Update or create a vision board and plan for the New Year. What are things that you want to come to fruition in the next year, what are some things you need to focus on to make you a better you?
Host a party– Invite your favorite people and new people to have an awesome time. Have a gift exchange and your favorite meal.
Best Friends Photo shoot– Grab your friends and get dressed, go out to all the festive places and take many photos.
Take yourself on a date– Plan it, find things you would want to do and do it. Bring your camera or a book and enjoy yourself. You work all the time, treat yourself good!
Create a new dish/drink/dessert– I plan on spending some time in the kitchen baking cookies and learning something while in there.
So many things that you can start doing to not feel alone for the holidays. This season can definitely make people sad and depressed and it doesn't have to be that way. This is a great time to explore and learn some new things. Who knows, you might meet the one you have been dreaming and praying for. But no matter what comes into your life whether a child or your love, don't give up your traditions. You can keep doing them alone or include  them. The worst thing you can do when getting into a relationship is lose yourself!
Have you started traditions as a single person? What are some traditions you think singles should try out?
Thank you for reading!
Peace and Blessings,
CicelyRenee
Thanks for reading the BougieBlackBlogger a blog to inspire and encourage. Contact me if you need Social Media Marketing a speaker for events or blogging assistance.