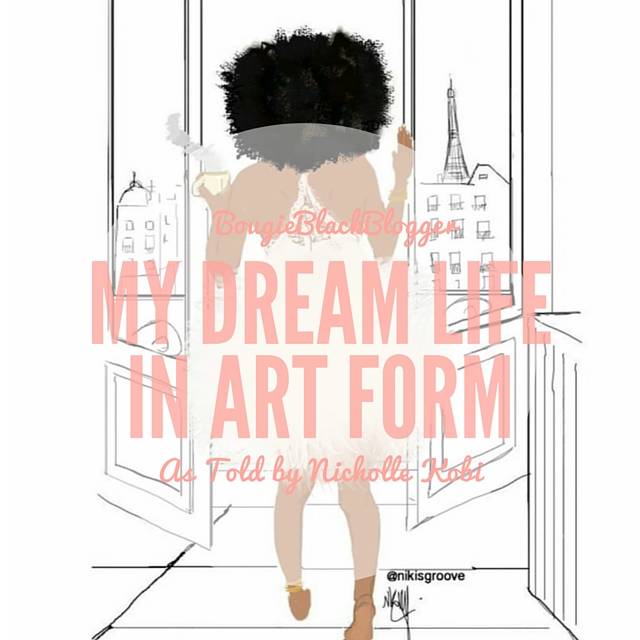 *** YOU SHOULD LOOK AT THIS POST VIA COMPUTER- Post is filled with beautiful photos!
My Dream Life in Art
as told by Nicholle Kobi
Nicholle Kobi is an illustrator based in Paris, France and can be found here, http://www.nikisgroove.com/
---
I found an amazing picture floating on the web and I had it on my blog. I showed a co-worker and she asked me if I owned the rights. I said no of course. I knew that I needed to site my source or give credit where credit is due but I did not know who the author was or where to find them.
I was scrolling on my Instagram, my favorite social media app and I saw someone post an amazing picture and because I stared at the picture all the time I knew that artist by her technique! I had found the artist and I was so excited. I had to tell my co-worker and I showed her the pictures and she agreed that her pictures were phenomenal.
So when I found her other photos on Instagram and her website listed below, I was like she is drawing my dream life 🙂 I am like that is me, bougie black woman, oh there is me with my future child, oh look when I traveled to Paris….
Her illustrations show what I mean to be Bougie and Black and I definitely do not mean that in a negative way. We can talk about that more in another post!
Take a look, but know that this post might be a little crazy but a girl can dream right!!!!
My boo and I on our first date
Girls, he loved it so he put a ring on it! I said YES
Me and my bestie chilling in Paris,
My girls and I on my bachelorette trip- We are SO BOUGIE I know
My girls and I checking in letting people know we are having the time of our lives for my bachelorette party
Me doing some last minute shopping for my wedding
It is the BIG DAY!!!
1 Year Anniversary
And here comes baby
Time to celebrate life with my close friends
A girl can dream right… But working hard to make my dreams become reality!
This artist is so dope isn't she. I really wish I knew how to draw, paint etc. But I will just write for now! You need to go show your love and support to this amazing woman!
She has an Etsy shop called Nikis Groove and above you can click to follow her on Instagram! In my new place, I want to have a collage of her prints on my wall. Her paintings make me so happy.
What do you think?
Who are some other amazing black artists out there? Please let me know!
Niki if you read this, I want to pay you for a portrait of me pllleeeaassseeeeee! And I will come to Paris and be your student!
Well that is all for today! Be sure to subscribe, like, comment and share!
Thank you so much for stopping by.
PEACE AND LOVE
CicelyRenee
BTW- Told you this was a crazy woman post didn't I?!?! We all have our share of crazy! OWN IT!

Thanks for reading the BougieBlackBlogger a blog to inspire and encourage. Contact me if you need Social Media Marketing a speaker for events or blogging assistance.