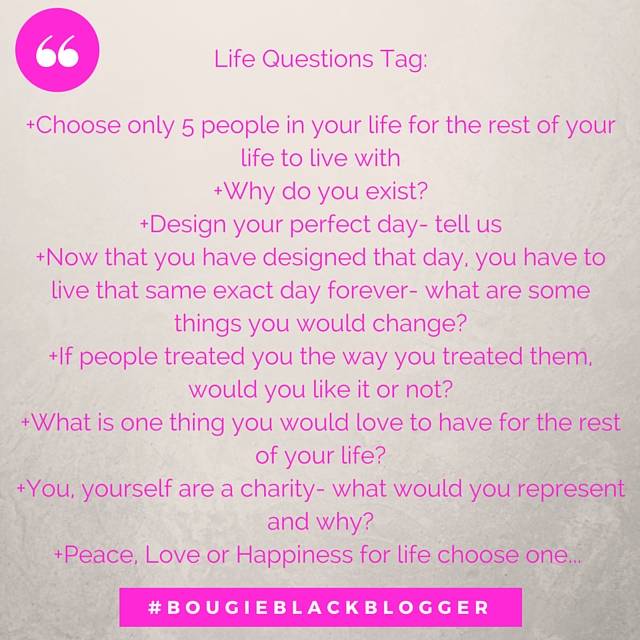 Greetings beautiful people!
I absolutely love tags and challenges, especially if they get you to reflect on life and progress. Here is a tag that I have created where you can do it in a youtube video, blog post, periscope, instagram or however your creative mind processes these questions. I hope you enjoy and tag the #BougieBlackBlogger so that I can see what you do! #Scopology Visit Scopology w/ Hannah and Cicely if you are interested in periscoping!
Here we go…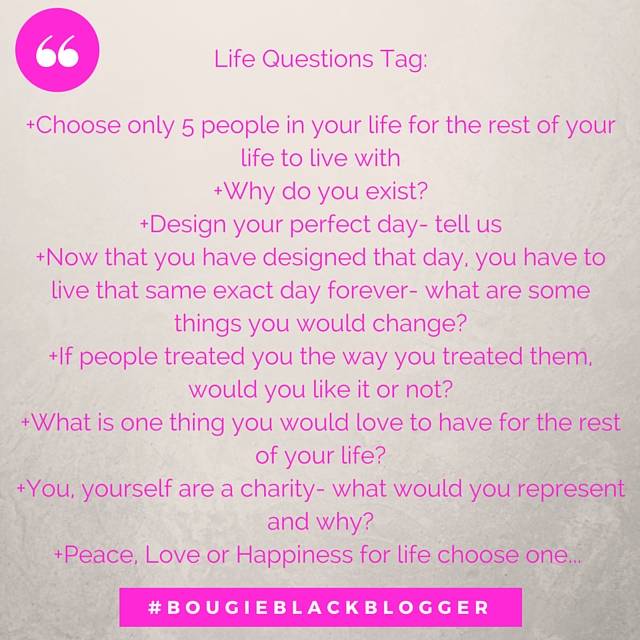 Life Questions Tag:
Choose only 5 people in your life for the rest of your life to live with
Why do you exist?
Design your perfect day- tell us
Now that you have designed that day, you have to live that same exact day forever- what are some things you would change?
If people treated you the way you treated them, would you like it or not?
What is one thing you would love to have for the rest of your life?
You, yourself are a charity- what would you represent and why?
Peace, Love or Happiness for life choose one…
Tag your friends that you want to challenge! Be sure to share and let's do this!!! 🙂
be sure to comment, subscribe and share! Thanks <3
Peace and Blessings,
CicelyRenee
Thanks for reading the BougieBlackBlogger a blog to inspire and encourage. Contact me if you need Social Media Marketing a speaker for events or blogging assistance.