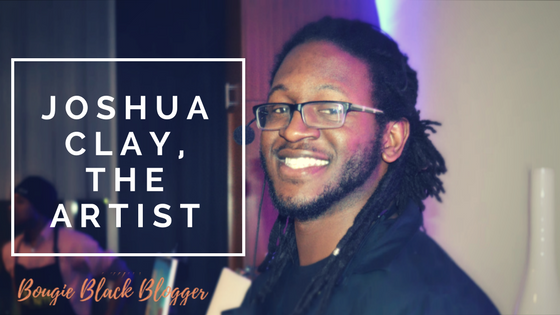 Beautiful people,
You may not know this about me, but I absolutely love art and black ballerinas. I remember as a child trying to dance in my bedroom after only one afterschool dance class and realized I did not have the talent! So I fell for the next best thing, loving black ballerinas.
I visited my aunt Julie's home one day and she had this amazing picture of a simple sketch, it was a ballerina, it had no color but I truly believed she was black. I begged for that photo for years, and then one day she gave it to me. I had it posted on my wall in my room and it brought me so much peace, you know the peace when you watch a ballerina twirl, stretch and fly across the floor with such grace and beauty? Yes, that peace. Then one day, when I was living in Miami, during the recession, we lost our home and so many things that were in it and the painting was one of them.
Fast forward to about 8 years, this influx of black ballerina appreciation grew and Misty Copeland and the Alvin Ailey Dance Company plus many more names were the ones that reminded me of my love for black ballerinas. I would post on facebook, every time I saw a photo of a black ballerina or dancer and caption it, "I love Black Ballerinas!"
About four months ago, I was hired to cover an event and to blog about it. It was a paint and sip event from Buzzed Art Nite and the painting was a black ballerina/dancer. I WANTED IT. Literally, I asked to pay for it and everything. But due to some things, I couldn't have that specific one. I found out who painted that specific one and had to have a little chat.
He let me know that he would paint me my own black ballerina and I was too excited. I didn't give him any details, I wanted it to be his creation because I could see this amazing talent and I am just like everyone needs to have an art piece by Joshua Clay in their homes! Thus, the blog feature! My aunt Julie and I named her Bella-Grace
Interview with Joshua Clay
Tell me about who you are, where you are from, hobbies, passions, favorites etc.
I am a Louisiana-born, child of Gaia. I moved to Dallas from New Orleans, with the help and motivation of my close cousin, Brian. In Louisiana, I lived primarily, with my mom in LaPlace where I attended middle and high school and played football for most of my school life. Even growing up and playing in a playground league, I've developed a love for sports and athletics but I have always had a deep passion for artistry and instruments. I would like to be more involved with physical fitness, attend some obstacle courses, etc., as well as learn multiple instruments. I deeply believe in self-improvement in mind, body, and soul.
When did you realize you had talent and how did you and your family go about cultivating your talent?
I realized my talent or my strong interest in art when I was in middle school and would find myself getting lost, being in my room and just drawing, trying to replicate Dragon ball Z animation style, a little nerdy. As far as cultivating and developing in that area, my family never restricted me but it wasn't something that seemed profitable, in terms of a potential career. I was constantly told that I should keep it more as a hobby and find something that will make a living but as of lately, seeing that it's an area I want to deeply and whole-heartedly pursue, they are encouraging and I feel excited to see what produces.
What is your favorite piece or performance? Why?
My favorite piece, I'd have to say, is the ballerina painting I did for Cicely Carr, not to sound cliché. The reason is because, for the longest, I've had a crippling reluctance into delving into color, especially selling. I've never seen myself on the business side of this field and to have even that success and opportunity was beyond words honestly.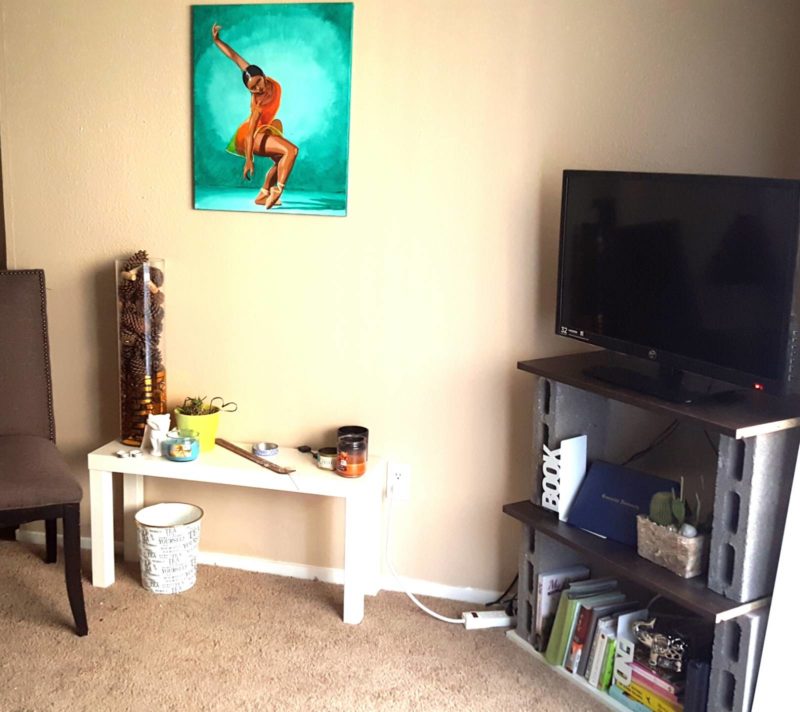 Where do you get the most inspiration for your work?
A lot of my inspiration comes from music, dreams, personal emotion and working to depict it on canvas, observing and appreciating the beauty in the world, nature because in the era of development and technology, I feel it's easy to take the nature, timeless beauty of earth for granted, poetry, run-on sentences lol. I try to draw inspiration from multiple sources to see where it pushes my creativity and broadens my perspective.
Have you taken any classes to perfect your skills and talents? Why or why not?
I went to college for graphic design and was fortunate enough to take a few art classes before I ran into some scheduling complications and FAFSA tom-foolery but at that time I was able to develop my skills through critique and exposure through different mediums. It definitely helped me to evolve and realize a passion.
What advice would you give someone who is new to your area if talent?
I would advise them that this is your life and whatever may come, no matter how difficult, be happy because you deserve it and you owe it to yourself. Time is our most precious asset and this world and its people are filled with beauty and inspiration. Humility and pride will open so many doors for you, pride is not arrogance. Be true to yourself and don't be too hard on yourself. There is a lot more but I'm still learning more lessons every day.
Are there some difficulties in what you do? Care to share?
Difficulties I have is now that I am more established and have an apartment and bills and etc. I am not able to completely take advantage of creative sparks throughout the day and many times after of work, I'm either mentally drained or just not as inspired. It's definitely some missed opportunities throughout the day but them bills gotsta be paid.
What new skill or technique would you love to learn and why?
There is so much I would love to learn from mixed media, watercolor, everything…literally, everything I can. I want to get better at creating more realistic faces and animals, mythical or realism. Graphic design, I have yet to even touch that area but I am excited about the challenge.
Anything else you would like to share, nuggets of wisdom, stories, memories etc.
I was talking with a friend of mine who's about to make a pretty drastic life change, for the better, because complacency without satisfaction is a curse and reluctance is every present. We spoke on why she was afraid to take that step and just her mindset, trying to let her see that her step was the right on. During the conversation, I told her that fear is going to be a thing she will have to deal with and to use it to her advantage. Your own personal fear will tell you to do a few things, either you stay or you move. I told her "Instead of staying out of fear, to move out of fear because once you move, what can fear tell you". She said "Nothing", I replied, "Wrong, fear will tell you to move faster and to keep moving because once you get a taste of happiness and experience success in whatever your endeavor is, it's the fear of losing it that will help drive you." To me, embracing these powerful emotions; fear, sadness, joy, desire, are bountiful sources of potential inspiration and motivation to take next steps in our art and in life. I think that's it, my attempt at trying to be deep
Interested in purchasing prints of Bella-Grace, email us at info@bougieblackblogger.com to be the first to know when they are available. LIMITED Quantities!
For inquiries, please email Josh at captainjclay@gmail.com
Name: Joshua Clay (Josh) aka Mr. Heatmeister
Location: Dallas, TX
Website: Coming soon
Art Genre: Drawing, Painting, Illustrations, Tattoo Designs, and soon to be, Tattoo
Social Media Info: Facebook/josh.clay.547; Instagram: joshu_a_claythei & jc_designs1989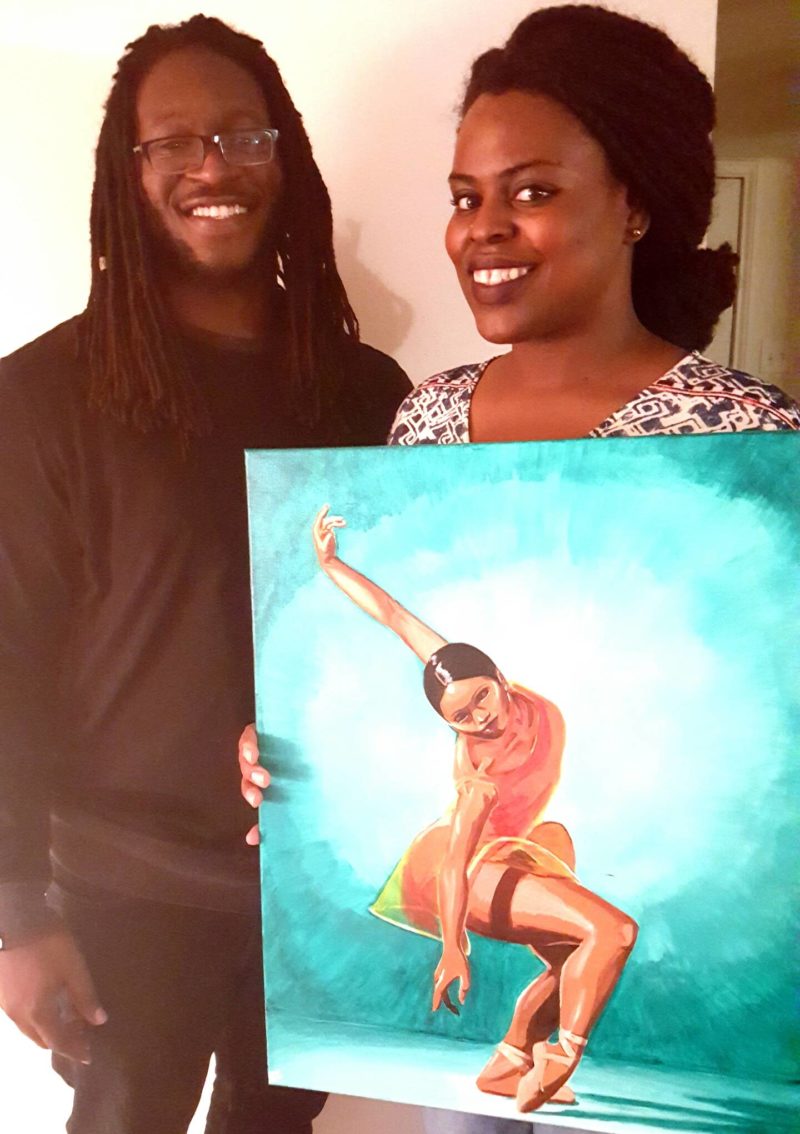 Some more of Joshua Clay's artwork
Thanks for reading the BougieBlackBlogger a blog to inspire and encourage. Contact me if you need Social Media Marketing a speaker for events or blogging assistance.