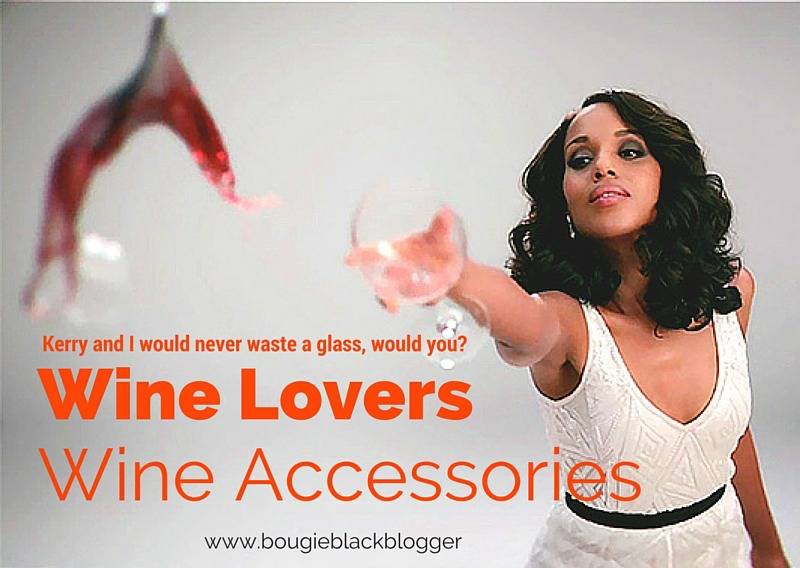 Wine Accessories
Am I bougie because I love wine or because I love wine does that make me bougie or do the two have nothing in common? Either way I am bougie and I love a nice glass or few of wine. I love going to wine parties, I love making wine cocktails, I love quotes and pictures about wine, I love wine. The ONLY well one of the two reasons I love Scandal is because Olivia Pope loves red wine as much as I do.
The other reason is Kerry is just an amazingly bougie, black, beautiful, boss and she just rocks. I do not watch the show though but when I did, I loved her gorgeous glass filled with red wine with a bucket of popcorn on the side. I have that dinner many a nights.
I went to a wine and whatever party filled with some more bougie black beauties and one lady brought something to the party and it was a hit. It was a wine skin. I was too excited. Basically is was a plastic bag filled with bubble wrap that closed for traveling with bottles of wine.

Today I went to Total Wine and was sampling the wines in the store. I looked down at the shelf and saw this stylish green purse and literally laughed out loud. I was like is that a wine purse and the man said yes it is. I had planned a whole event in my head in less than 15 seconds on how I would use that bag. So I decided to go on Amazon to see if they had any good deals and saw this one:
I totally love an amazing looking wine glass and Olivia Pope has such an awesome one, don't you think? Long stem and wide rimmed, the perfect combination to sipping in the beautiful bougie fashion.

I love fancy glasses, check out these great deals here.
I absolutely love wine and now the amazing accessories for wine lovers such as myself. I think I am going to head over to Amazon to see what else they have. Check out my store to see my favorite products! Christmas is coming up as the lights, decorations and gifts are already in the store and Halloween and Thanksgiving have not even occurred. Maybe they are helping people like me who like to wait to the last minute to get gifts. Well anywho, are you a wine lover? Have you seen any of these products? What is your favorite wine?
Thank you for reading and I hope you enjoyed. Be sure to comment, share and like so that I know I am doing an ok job on the blog 🙂
Peace and Blessings,
CicelyRenee
Thanks for reading the BougieBlackBlogger a blog to inspire and encourage. Contact me if you need Social Media Marketing a speaker for events or blogging assistance.