Hey beautiful people,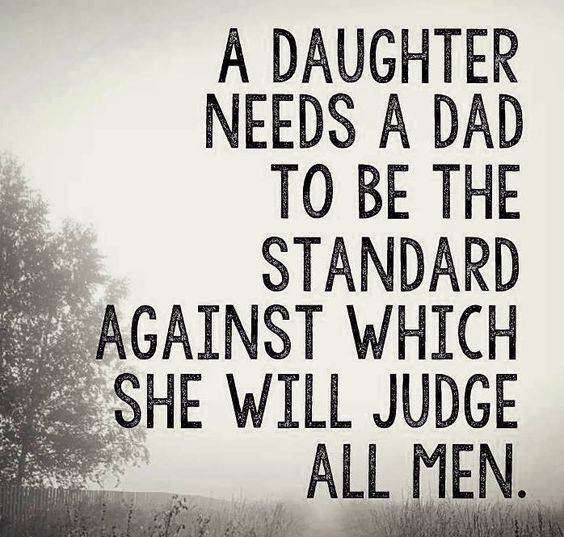 Someone once told me to marry someone better than my father and I thought about it… My father was never there. Then they
said, exactly… So I married a man that was present but only visually. As I think about that advice, there needed to be more to that conversation. What exactly is a daddy's role? What do they need to do to influence our well-being as daughters and sons? How are they supposed to love us in ways that will develop strong men and women?
Having a man, father or husband that is in the home only visually can be so detrimental for the children's well-being. There are so many father's in their children's lives but have no spiritual, mental or emotional presence. So which is worse or is it the same?
Father's are so crucial in their children's lives and if the father is absent because of death, hopefully a wonderful father-figure will step up to the plate. Growing up, I longed for my father to be around and that never really happened. As a first hand witness, I know what it is like to not have a father around and seeking that in men, not the best choice.
Thank God for people who will not give up on our men as fathers as they provide opportunities to make sure fathers are not just there physically but making a huge impact in their children's lives. My favorite is the Father Daughter dance.
Minneapolis, MN held their 4th Annual Father Daughter Dance thanks to Positive Image Founder Terry Austin. This event just overflows my heart with love and to be honest, that longing for that memory that never happened. As I saw post after post of fathers dancing with their beautiful daughters, I couldn't help but shed a few tears as I saw these men treat these young ladies with the upmost respect and love.
Fathers are the first loves for their daughters and I do believe they set a standard for their daughters as they begin to date. Fathers will also set the tone for how their sons will treat women.
The 4th Annual Father Daughter Dance was held, Sunday, February 14th at the Earl Brown Center in Brooklyn Park. With over 700 fathers and daughters in attendance, they created a night to remember.
Myra Davis, who attended the event had this to say, I thought that the father daughter dance was a really nice event. I felt that it was more meant for little girls and young teens. I felt a little out of place being the oldest one there. But overall, it was a beautiful event and well put together. Me and my dad enjoyed ourselves especially since we've never done anything like this before. I used to do the bring our daughter to work day with him as a young girl which was fun. But who doesn't like to get dressed up and go to a nice event. I'm a daddy's girl and I try to take any opportunity to spend with him. You have to cherish every moment with those that you love. They had a beautiful poem that all the dads read to their daughters, this was a tear jerker for my dad. He tells me all the time that I am his heart and how much he loves me. This night was just another special moment to put in the books!
---
Here are some photos from this amazing event:
For more beautiful pictures, check out MPRNEWS and MNCBS
Fathers, you are so needed and valued. I pray that as you continue to be present in your children's lives not only physically but spiritually, emotionally and mentally that doors open, opportunities to fall into your lap and you lead like God wants you to lead. I pray that the sons will follow in your footsteps as they transition to manhood and daughters will feel protected knowing a real man when she sees one. You represent so much more than what is being shown and we know it may not be easy but we believe in you. We love you men!
#Salute #Fathers ❤️󾭻

Posted by Unapologetically Black on Monday, February 15, 2016
Thank you so much for reading. Please comment and share.
Ladies, what are your most memorable moments you have shared with your father? Mother's, what makes you excited when you see your fathers with their children? What is some advice you would give to parents or future parents? 
Peace and Blessings,
CicelyRenee
Thanks for reading the BougieBlackBlogger a blog to inspire and encourage. Contact me if you need Social Media Marketing a speaker for events or blogging assistance.