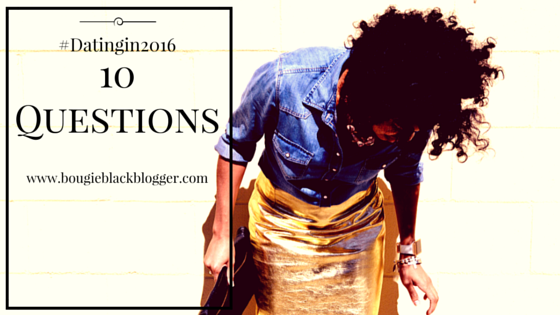 Hey beautiful people!
2016 has been quite the year… 6/7 months in and dating still seems to suck. People are even tweeting about it #datingin2016…
So it has been awhile since my divorce and I feel like I am ready date… To be quite honest, I am not the dating type… I really don't know what to do. I have met a few guys and we would have great conversations, we would meet up and either I or them would slowly begin to disappear. I have realized I get so bored easily or irritated. I find it really easy to just say "NEXT"
I just realized that, I start off with just friends… like I am just chatting with them with no expectations. What is wrong with me? You would think I would try to see them for more… I wonder if God is blocking my mind and heart? Because when I was younger I fell so easily. Ugh, did I get old or something.
I know that I am expecting that "Sweep me off my feet" feeling, it is like I don't even want to waste my time… I don't mind wasting yours but my time is precious. But then I think about me as a person… You know Awkward Black Girl? That is sooo me! I was like, how did Issa Rae watch my every move and furthermore why did she think it was ok to put me on blast?
It is probably that prayer I prayed to God… "God, send me an amazing God fearing man, and I will know you sent him because he will say, "God told me you are my wife" and then I will pray and confirm with you God." Maybe it was the other prayer, "God, I am tired of dating potential, can I please have a man that has it all together" Shoot… if that is the case… ughh I may not be getting married till I am retired..
I still want to date though. But I am so lost on the rules, the procedures, the games… like they still playing games…
#Datingin2016 Here are some questions you can help me with:
Question number 1: How do I get out of the friend zone? So HYPOTHETICALLY, say I was really great friends with a guy that I am madly in love with but they don't know that but I want to be more than a friend, how do I do that? What are they steps?
Question number 2: Say I didn't get out the friend zone with my friend and I started dating someone… can I still go out to dinner and the movies with my friend while being in a serious relationship with this other guy?
Question number 3: Soooo many rules… you can't text back right away you seem desperate but don't wait too long. Do I really need to worry about timing… Why can't I just do me? I am always on my phone… and the text will pop up so why not respond? You want me to pretend like my life is so interesting and that I didn't have my phone  in my hand scrolling through all my social media feeds? You want me to pretend like my phone isn't attached to my hip?
Question number 4: Social dating apps, someone you are not attracted to and just don't want to be bothered sends you a message… do I politely say, "Sorry I do not like you, please go away" or do I just ignore them like the bills I have to pay… But for real out of respect, do I say anything or just let it be?
Question number 5: I really want to get out of the friend zone, how do I do that? HYPOTHETICALLY speaking.
Question number 6: SO I can't date my old high school friends ex… we aren't even friends anymore… and I have been out of high school for… well we won't go there. Really? Like… the world is so small and there are over 7 billion people, I CAN'T DATE MY FRIENDS EX?
Question number 7: Ok… I really want to date with a purpose, that is probably why I don't get many dates out of a person because they are just looking for a booty call (Do they still say that?)… So am I thinking marriage right away or is it "GO WITH THE FLOW and see what happens?" Isn't that something you warn women against, if a man says, "Let's just see where it goes?"
Question number 8: What are the key phrases that should make me look at this man, smile then nod, stand up and run out the door?
Question number 9: I remember reading about 5 or 6 years ago that the best way to meet a guy is from a friend introducing you to one of their friends or their friends friend… WHY AREN'T PEOPLE DOING THAT? Why do I have to go on Tinder or POF or Black People Meet to meet a guy that I do not know? Why are my friends selfish with their guy friends? Why do my friends hang out with losers, they are always saying, "Oh I don't have any good guy friends" WHY DON'T YOU? Why are you hanging with jerks?
Question number 10: So say that I really like a guy that is my friend… how do I get out the friend zone… How I feel:
Ok, I know I said 10… but here are two more:
Question number 11: When or do you add them to your social media? Like… people are going to notice that new guy liking all of your pics and commenting… But I don't want the world all up in my business…
Question number 12: Is it weird that I can google search these dudes and find them on most social media sites with things they tweeted 7 years ago and I am still holding it against them? I want to know if you have felonies, I want to know if your JOB aligns with your linked in profile. I want to know things you said about that chicks arse… oh wait that is a dude…
Anywoo… I will have more questions as my dating life advances due to your help!
I love the hashtag #Datingin2016 here are some of my favorite posts on Twitter.
Had a dope phone convo last last night but it probably won't go anywhere. 🙄 #DatingIn2016

— Jordy (@JordyBeeJonez) July 3, 2016
And then he leaned in and whispered, "Don't underestimate me, you're just one Google search away." #DatingIn2016

— Ashley Nickels (@AshleyNickels) June 24, 2016
We Feel In Love Through Snapchat: A Love Story. #DatingIn2016 #PossibleMemoirTitle

— .dianacarolina. (@d_rtyd) June 23, 2016
😩😩😩😩😂😂😂😕😕😕 #DatingIn2016 pic.twitter.com/GacQyUWR3o

— Veteran Freshman (@yusufyuie) April 7, 2016
If I like enough of your shit on social media you should probably message me …. #datingin2016#whatafuckingjoke

— Jordan Porelle (@JordanPorelle) April 1, 2016
Thanks for reading!
No, really, answer these questions… 
Peace and Blessings,
CicelyRenee
Thanks for reading the BougieBlackBlogger a blog to inspire and encourage. Contact me if you need Social Media Marketing a speaker for events or blogging assistance.