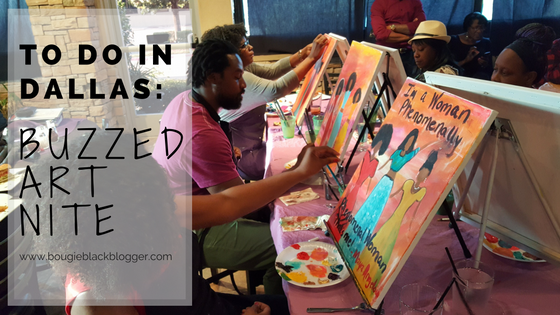 Buzzed Art Nite
Hey Beautiful People!!!
Last year for my birthday, a group of my friends went to a paint and sip event and had an amazing time. While I was choosing days and pictures that I wouldn't mind hanging on my wall, I got bored. They were nice pictures but not exciting. Yes, painting flowers are cool and even recreating Starry Night is cool but as a millennial with an artistic side, I wanted something that would reflect my taste.
I was too excited to connect with Tanasha here in Dallas, TX. She is the owner of Buzzed Art Nite, a paint and sip business specializing in contemporary, pop cultured, and urban pictures. So if you are looking for a unique, engaging and fun night out, look no further.
First of all, let me tell you about my experience! I enter this restaurant and was brought to a room where tables were set up with easels, paint, brushes, smock and the canvas! She is ready for you when you enter.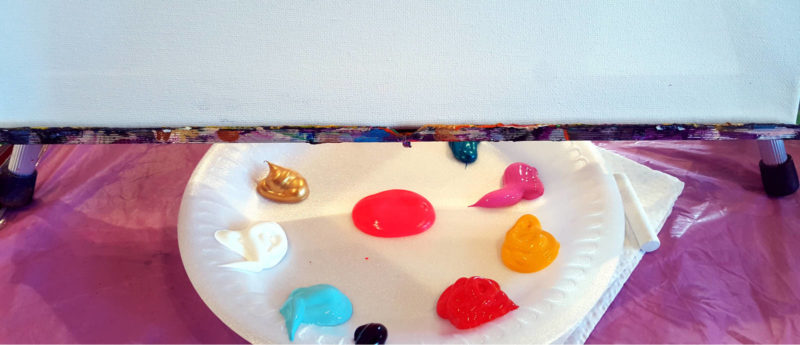 As we waited for more people to show up, we talked with one another and ordered food and beverages. She engaged with the guests and we grew with anticipation to recreate in our own perspective, the art piece for the night.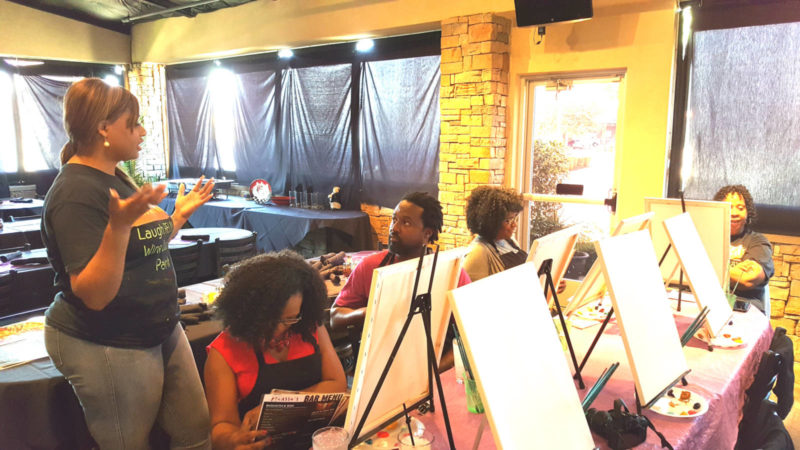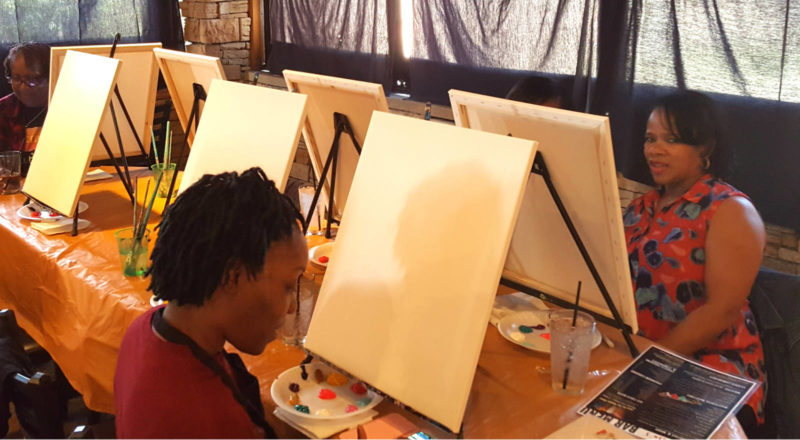 What is really cool is that she hires artists, creating a team which gives us a diverse painting experience. So you will have many perspectives and creative lenses.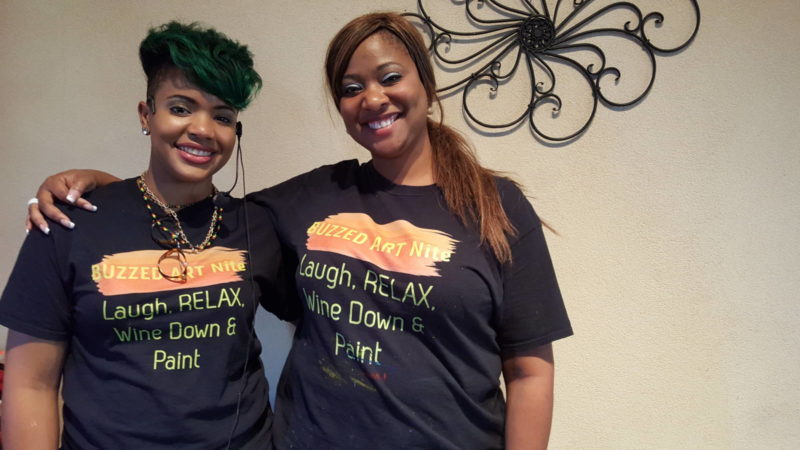 I was so ready to start painting! Painting to me is healing. Mental, emotional and even spiritual. I tend to zone out and let my heart do more of the work.
We started off with the background, learning how to mix colors and blend. What is cool about Buzzed Art Nite, they really teach you how to do it and that means people on all levels can recreate the pieces.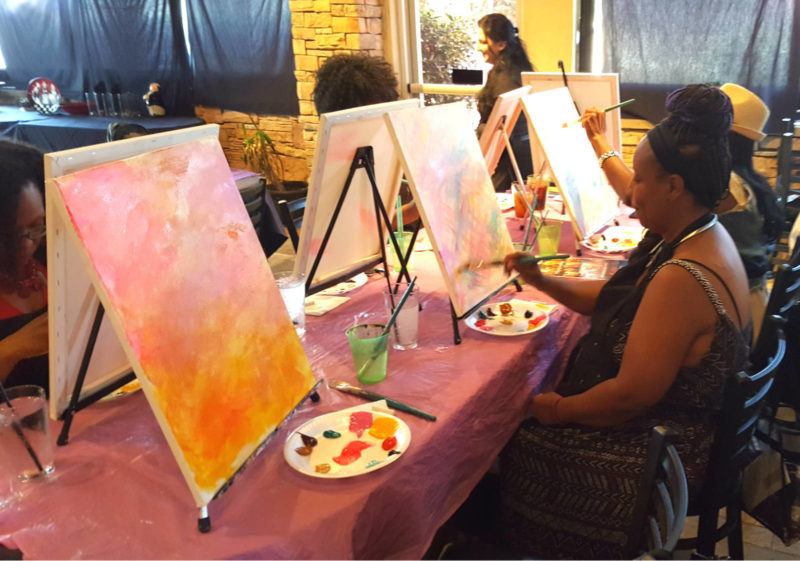 Another thing that is really cool about Buzzed Art Nite, is that it is engaging, Tanasha, the owner, hosts activities which are also challenges. Fun and silly but really makes for a night to remember.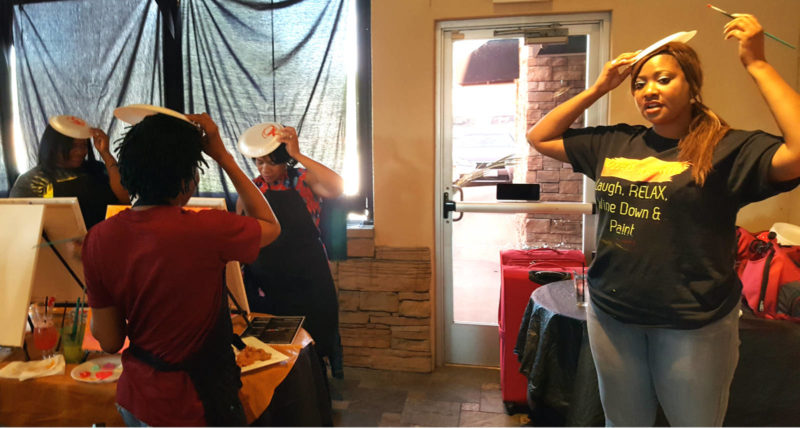 One thing she did was invite people from the community to play a part in the evening. This night, we had a spoken word artist by the name of Viola K. Blocker. She recited "Paint Me" which of course was perfect for the evening. Very sensual and romantic.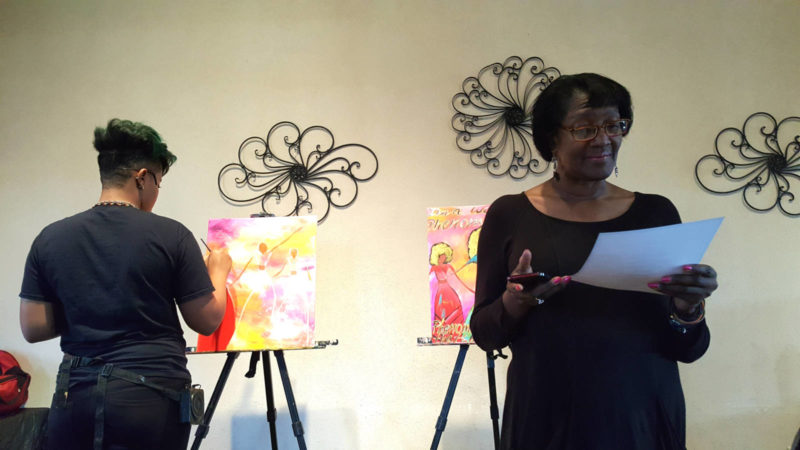 I had an amazing time painting and meeting new people. Some people have done many of her classes and some, like me was their first time. Even though it was my first time, I felt so at ease. During the class, they made sure that people were caught up before moving to the next step. Although, they had the image that we were to paint, they were open to people's own interpretations. They even helped come up with colors that would help with what we painted. No two pictures were the same and that was to be expected.
As I follow Tanasha on social media, I have seen events that honor people such as Prince, Beyonce and Michael Jackson. Be sure to get in on this, because it is not like we are creating old and classic art pieces but there are paintings that are relevant for today.
The Interview
A little about Tanasha, the owner:
I am originally from a small town in Kansas called Leavenworth.  Until about the age of 16, I was raised a military brat, traveling all over the world, having lived in places such as Hawaii, Kentucky, Georgia, Germany, Michigan, Missouri and Kansas.  I relocated to Dallas in 2014 and fell in love with the city.  I have two younger siblings, a 5-year-old yorkie and one teenage son.  I absolutely admire everything art and I consider myself to be a humbled, driven, creative, motivated and determined individual.  My CORE Values are transparency, perseverance, FAITH, FUN, laughter trust and dependability.
I asked Tanasha to tell me a bit more about her business and here is what she had to say:
We are a MOBILE sip and paint party company here in DFW.  We offer paint party sessions; complete with all the paints, brushes, easels, aprons, canvases, music and the low-key step by step instructions on how to create your very own keepsake masterpiece.  We offer a spoken word, keepsake wineglasses, t-shirts, birthday cakes, balloons and networking.  We take pride in bringing the FUN to YOU and tailoring our services to fit your needs. Our motto is Laugh, RELAX, Wine Down and Paint.  Our unique art experience is great for celebrating birthdays, girls night out or in, women retreats, FUNdraisers, date night, Corporate team-building and so much more.
I started my business as a way to expose and inspire other women express themselves through art therapy. On many occasions, I have dealt with bouts of depression and needing to find ways to relieve my stress and anxiety, and it wasn't until I decided to step out on Faith, that I began to realize my purpose.  Painting for me is in itself a form of art therapy and it helped me therefore, if I can somehow be a blessing to others through the services offered with Buzzed Art Nite, then really that is what brings me happiness and purpose.
What are all of the services and products that you provide:
My products and services are for all walks of life that have an appreciation for pop culture, contemporary and FUN artwork.  It's for those that would like to try something new and different as well as those that need a new way to relieve stress and anxiety and feel more calm.
Advice you would give someone trying to start a similar business:
Realize that your customers may not be who you think they are. I have had a plethora of difficulties starting my own business. For example, coming to the realization that I am my own biggest cheerleader and those that I thought would be there to support my business endeavor, were not.  I am someone who has a relationship with GOD so I draw upon him for strength, motivation and guidance to persevere.
Future vision for Buzzed Art Nite:
Right now, I am comfortable with continuing to grow my business in the Dallas area. Someday I would like to expand into Houston and perhaps someday back home in Kansas where I am from.
Last but not least:
Also, the last nugget of insight that I'll share is this.  God puts desires in your heart for a reason.  Get still. Listen to that voice and follow through, for if you do, that desire will in turn be your passion, and that passion will lead you directly to your Purpose and at the end of the day, that's why we were all put on this earth.
Feel free to visit my website for more information.  And also my Facebook business page for more pictures and information.
Be blessed,
Tanasha
More photos from the event: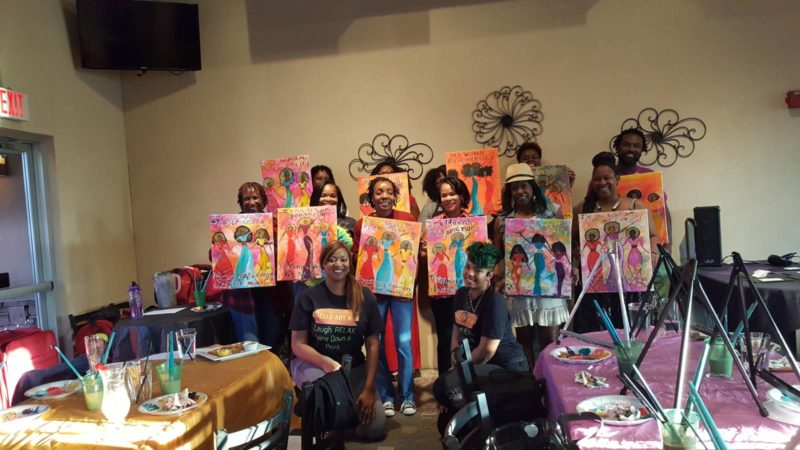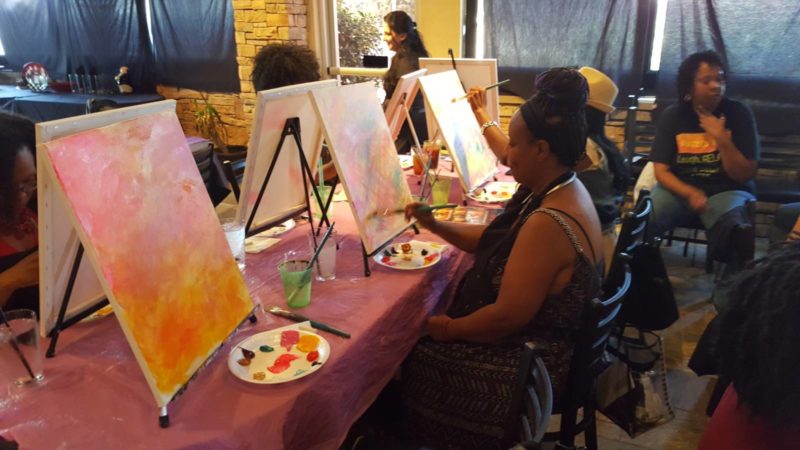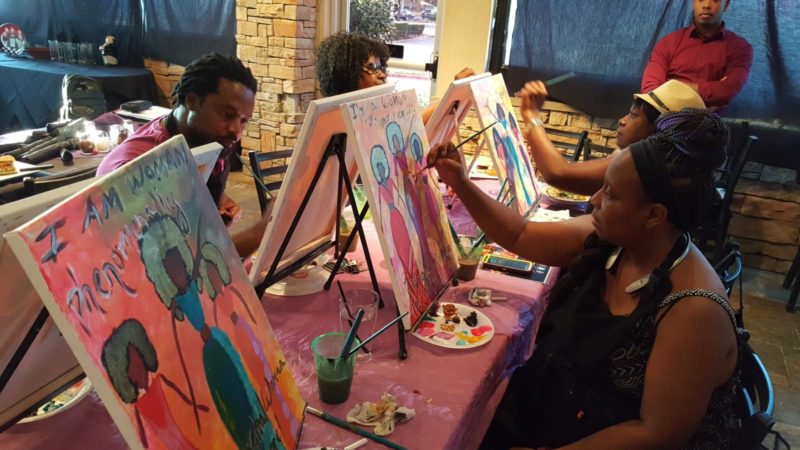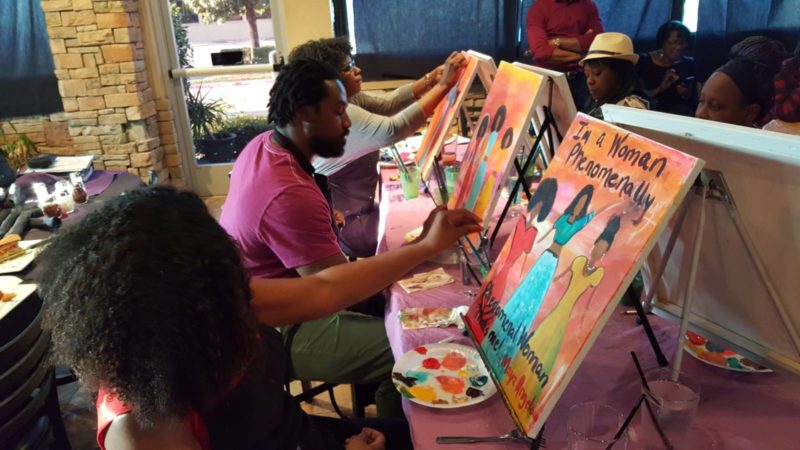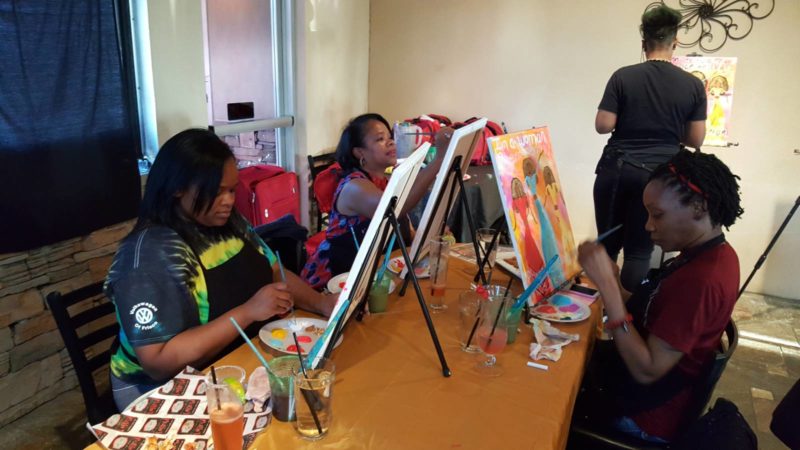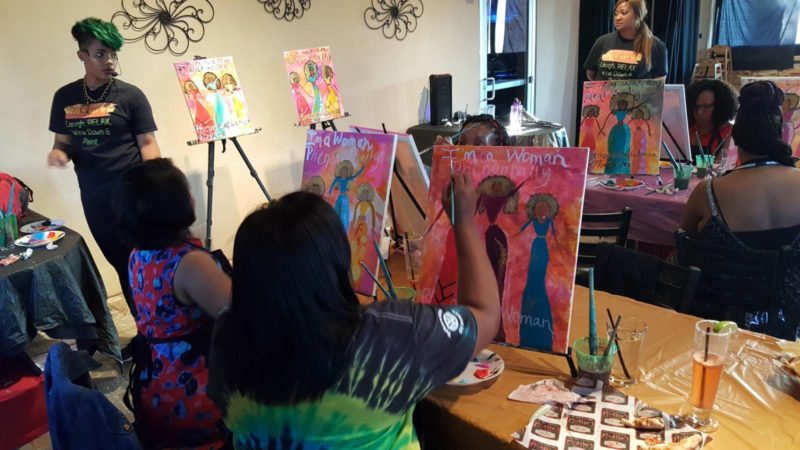 So ladies and gentlemen, if you are looking for an exciting, hip experience where you can paint as well, be sure to check out:
Buzzed Art Nite, LLC
Owner & CEO/ Tanasha Allwood
Serving North Dallas, TX
972-785-7352
Arts/Entertainment Business
Be sure to share with your friends!!!
Peace and Blessings,
CicelyRenee
***This is a sponsored post. Just know that all opinions are my own!!! 
Thanks for reading the BougieBlackBlogger a blog to inspire and encourage. Contact me if you need Social Media Marketing a speaker for events or blogging assistance.