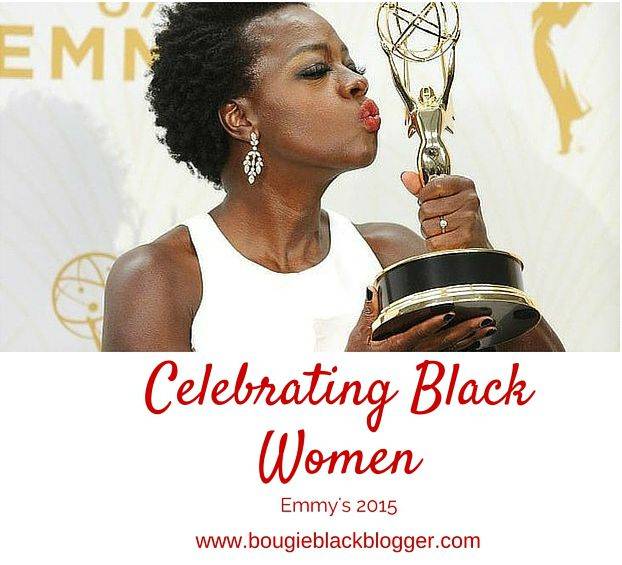 Celebrating Black Women at the Emmy's 2015
---
I have always been drawn to and excited about powerful black women. By powerful, I do not mean strength or career wise but more of their presence, powerful in their words, powerful in their character, powerful emotionally, mentally and spiritually. I was so excited to watch the Emmy's 2015 last night as many powerful black women poured love, their congratulations and support to all the women. My pastor would always say, "Celebrate others like it was you" these women far exceeded that.
The way they celebrated and supported each other is a way of life and this needs as much media attention as the negative ways they portray black women to be actually 10 x more. We need to drown out the drama, and the ill ways that people think we should be like.
I was so proud of these women and they made me proud to be a powerful black woman. Their struggle, their journey was tough but they never gave up. Celebrating Black Women at the Emmy's makes me reflect on this phone conference I participated in on Saturday called, #INHERSHOES led by Tamika Joi of Pynk Latte Mornings where it is nothing short of celebrating and uplifting women. One of the questions were
Q1: Why do women judge other women? #InHerShoes

— Pynk Latte Morning (@PynkLatte) September 17, 2015
And it made me think if we would celebrate other women, specifically black women as often as we judged them, I believe there would be a huge shift that is greatly needed. This one the main purpose of Bougie Black Blogger- to celebrate and uplift black women/people and their accomplishments.
I want to celebrate Viola Davis, Regina King, Uzo Aduba, Tracee Ellis Ross, Kerry Washington, Queen Latifah, Shonda Rhimes, and the many more black women that are working hard to pave a path that did not seem like it would be tangible. You all light up my world and I am sure many others.

Their reactions were priceless and oh so touching!
It was all sorts of #Blackgirlmagic happening on my TV screen and blew my mind
#Emmys #blackgirlmagic #blackbeauty Taragi Henson Kerry Washington and Mary J Blige pic.twitter.com/QzhOxOeP54

— Cicely Renee (@CicelyRenee) September 21, 2015
I am just so excited to share this and be a part of celebrating these black women and more! If you are a powerful black woman doing some major things in your life whether it is starting college, owning a business or mentoring others, whatever it may be, I want to celebrate you! Contact me for more details!!
Be sure to check out others that I am celebrating on this blog, here is one of my favorite posts.
Make sure you share this with others!!!
Thanks for reading the BougieBlackBlogger a blog to inspire and encourage. Contact me if you need Social Media Marketing a speaker for events or blogging assistance.