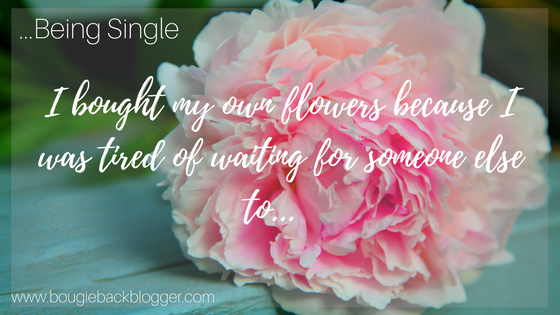 Buy Your Own Flowers…
I got up this morning and went to church, I sat there… thinking… "I NEED MORE" I decided to hop in my car and drive to the main campus because my church streams the message… and my prayers and desires were answered… I wanted more out of my church experience that day because lately… I have been in my head and not with my God… I have been looking around at my life, my situation and feel like I keep coming up short.
Two of the biggest areas I am struggling in is my finances and my singleness. When it comes to my finances, I feel that every time I make more money I have bigger bills and I just can't seem to catch up. I feel bad because I cleaned my savings out with my relocation and literally starting life over after my divorce. When it comes to my singleness, I reflect a lot on my divorce because I not only divorced the guy… I divorced the dreams and hopes that were attached to him. I want the family, I want the kids… I had plans with my life as a wife.
So back to church, I sat in the sanctuary… with my mind made up thinking that I was not going to get a word because 99% of the time when preachers preach… it is always to MARRIED people and here I am SUPER SINGLE… READY TO MINGLE… One thing that stood out was my Pastor's prayer, "Please Father God, carve a word specifically for each person here." I sat there, the second time around unphased because I already heard the word, but listening to him live… he changed things up a bit. Just the change I needed for my life.
Almost at the very end of his message, his fourth time preaching, he had a word for the singles, I was like OH MY GOD… this is it! And it was… he said, "Singles, enjoy your singleness… so that when you do get married, you won't look to your spouse for your happiness" This is what I heard, " live your life, quit waiting on guys to enjoy life with… it went on in my head to say, LIVE YOUR FREAKING LIFE and quit waiting on people to do life with you!" I was thrown… I was like, that is it… I was like… I HAVE BEEN AND KEEP waiting on people to enjoy life… I reflected on yesterday where I didn't want to do things by myself and when everyone turned me down I just wanted to mope around the house… and that is not how you live life…
After church, I went to the store… Trader Joe's to be exact… and when I entered… there was a sign… "Peonies NOW IN STOCK" First let me say, I hardly ever go to Trader Joe's because it is not on my route, and two… PEONIES ARE MY FAVORITE FLOWER… like talk about how God just shows HIS LOVE in a variety of ways. I was ecstatic and I said… "I AM BUYING MY OWN FLOWERS" yeah, it is sweet when he buys them for you… but where is he when you need him… Just shows me that I don't need to rely on a man for my happiness or my joy!
So I bought myself my favorite flowers… bought vases to put them in… and now reflecting on how I am not going to wait on anybody else to live my beautiful life!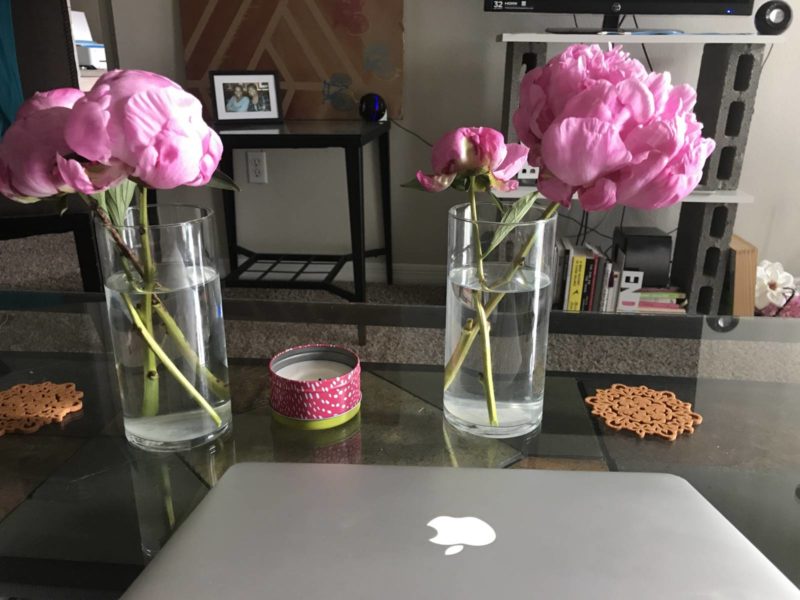 10 Things I am NOT WAITING ON ANYBODY TO DO:
Live My Life…
Live my Life
Live my beautiful life
Vivir mi vida
Vivere la mia vita
Lev mit liv
Live My Life!
Lebe mein Leben
Ishi maisha yangu
Ola i loʻu olaga
Did I mention Live My Beautiful Life? I may not have a plan on what living my life will look like right now, but I know that every day, every moment I will enjoy and take advantage of it!
What are ways you are going to stop waiting on others to live your life? What are the things you have been waiting for? Comment below! 
Be sure to share this encouragement.
Thanks for reading!
Peace and Blessings,
CicelyRenee
Thanks for reading the BougieBlackBlogger a blog to inspire and encourage. Contact me if you need Social Media Marketing a speaker for events or blogging assistance.