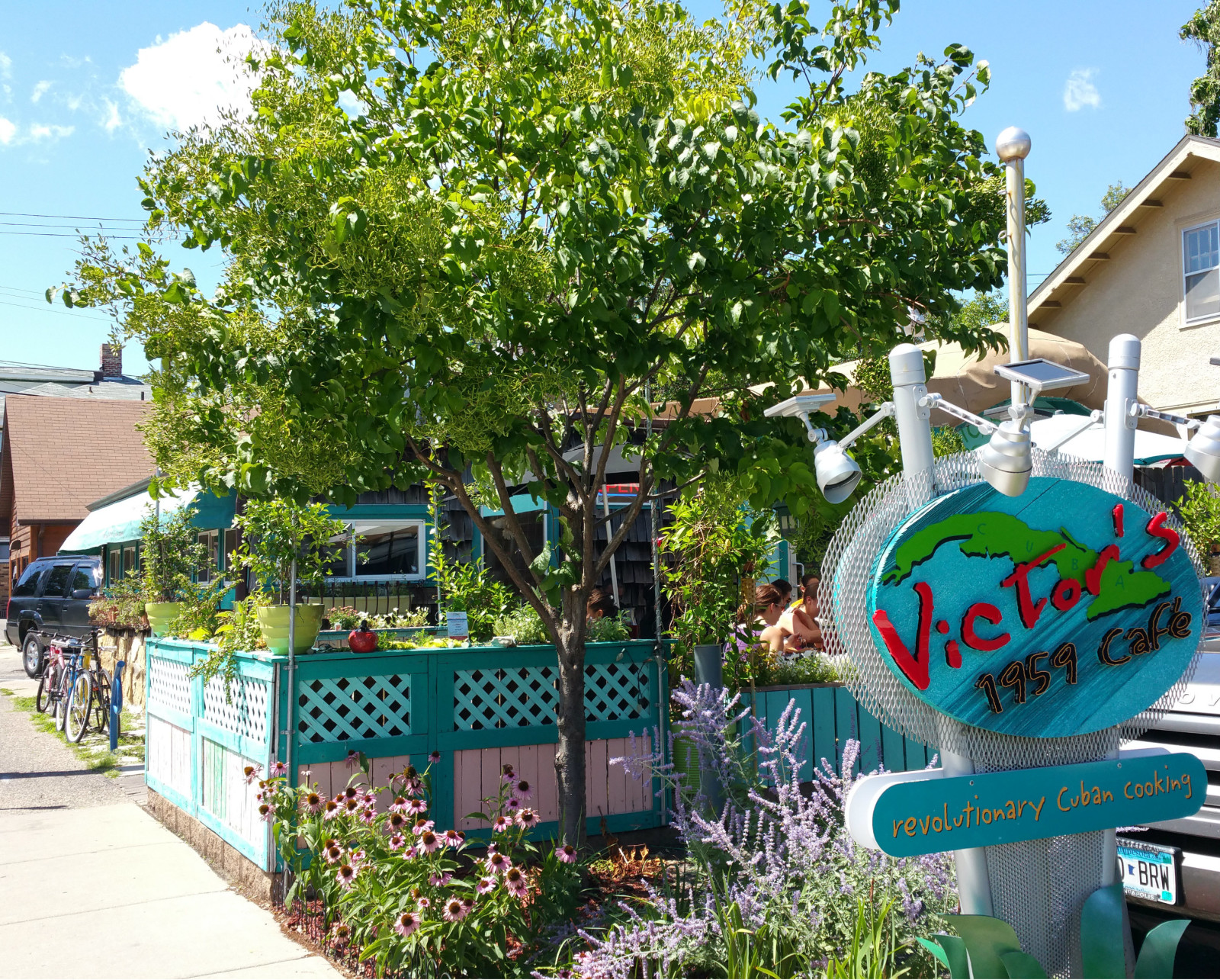 Hey Sweet Thang,
Oh my gosh, I just had lunch at the best Cuban place in Minnesota. Victor's 1959 Cafe was full of life and color. Just being there out on the patio took me back to my days when living in Miami for two years. Ever since I have been back to Minneapolis, I have been planning on going and have yet to do it until today. I felt like the only thing missing was the beach and a mojito.
Resting on the corner of Grand Ave and 38th street sits this tiny blue and brown restaurant. I think it might be a neighborhood favorite. What really makes me excited about this restaurant is the character. It was cozy and and the walls were painted on with customers drawings and writings. Surrounded by booths in blues, reds and floral print makes for an exotic experience.The food was full of flavor and took my taste buds through the roof. I ate the Picadillo meal which was a ground beef dish with sweet plantains and black beans and rice.
Review:
Is it great for dates? I think this is one of the best dates spots. Very quaint and cozy which I think is super romantic.
Is it pet friendly? Yes, but only during the summer as pets cannot go into restaurants.
Is it budget friendly? YES YES YES, I got my meal, plus dessert, and coffee for $20 Very easy on the pocket.
How are the servings? I could have probably eaten a bit more, but I am sure if I did I would be miserably full. It is a great portion especially if you are going for lunch during the work day.
Is it family friendly? The children would love it, especially during the summer time for patio seating.
How is the space? Like I said earlier it is pretty small. Also, they are very popular and I understand on the weekends for breakfast it STAYS PACKED!! So probably tables for 1 to 10 at the max but even that is pushing it. 
How about the music? Cuban/Latin themed music. I found myself moving to the beat in between bites and conversation.
How is the parking? Parking is street parking with a few spots in front of the restaurant.
What else is there around the restaurant? There are a few little businesses and a coffee shop so it can be more to your trip other than the wonderful meal.
Allergy/Dietary friendly? Great place for gluten free lifestyles and also vegans and vegetarians. Most of the food is natural foods, beans, rice, veggies and more. Of course I saw lot's of bread options  but if you are gluten free like me, just don't eat it. 
How is the service? The servers were great, a few kept dropping and spilling things on people. Not sure what that was about 🙂 But they were attentive and very friendly.
Other things? The bathroom is tiny and right next to the kitchen, I did not care about that much but it was so cute and I felt like I was in a different country so that that was cool. The customers were very diverse which made me excited since I am in MN and it is predominately white. 
Stars 8/10
Should you go? YES YES and YES- bring great company to share in the experience.
I am looking forward to date night here! 
Let me know if you go and your experience!
Victor's 1959 Cafe
3756 Grand Ave S Minneapolis 612-827-8948 Tues-Sat 4:30pm-9pm Daily 8am-2:30pm
Thanks for reading the BougieBlackBlogger a blog to inspire and encourage. Contact me if you need Social Media Marketing a speaker for events or blogging assistance.