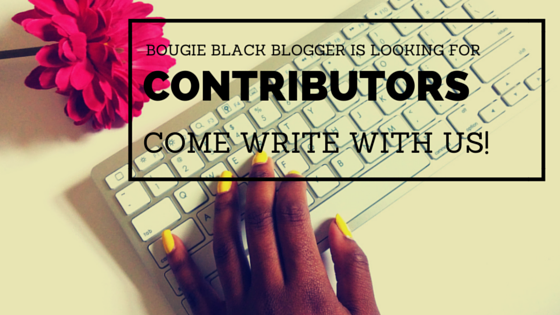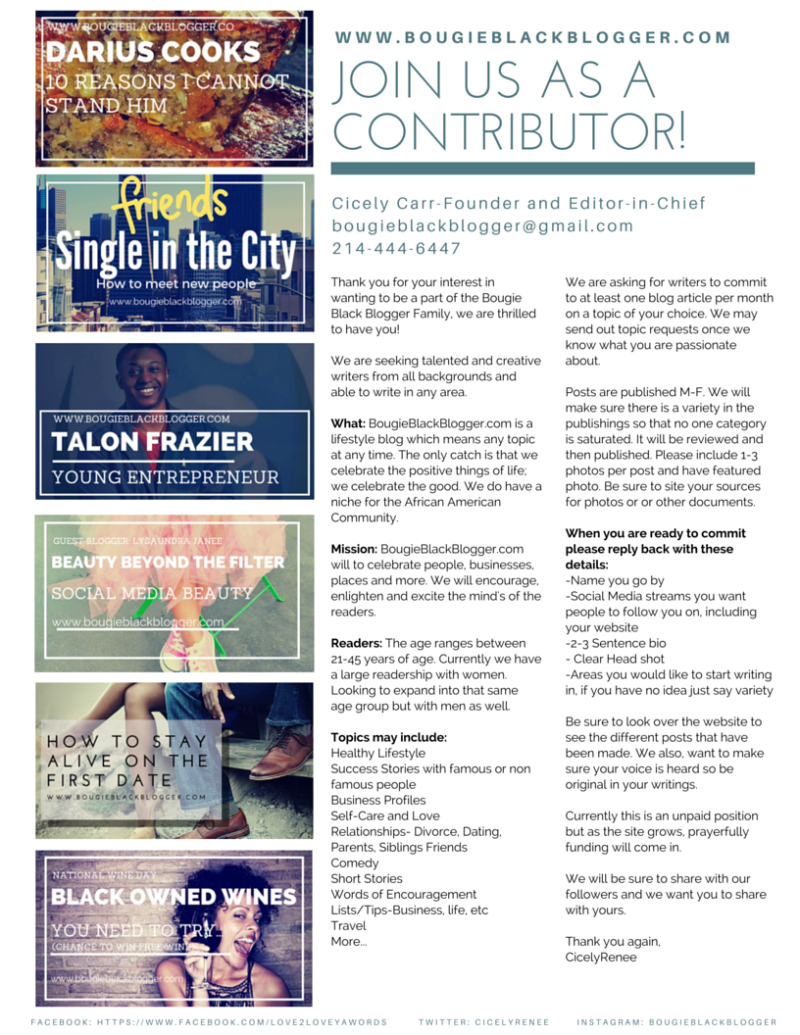 JOIN US AS A CONTRIBUTOR!
Cicely Carr-Founder and Editor-in-Chief
bougieblackblogger@gmail.com
214-444-6447 Cell (text or call)
Thank you for your interest in wanting to be a part of the Bougie Black Blogger Family, we are thrilled to have you!
We are seeking talented and creative writers from all backgrounds and who are able to write in any area.
What: BougieBlackBlogger.com is a lifestyle blog which means any topic at any time. The only catch is that we celebrate the positive things of life; we celebrate the good. We do have a niche for the African American Community.
Mission: BougieBlackBlogger.com will to celebrate people, businesses, places and more. We will encourage, enlighten and excite the mind's of the readers.
Readers: The age ranges between 21-45 years of age. Currently we have a large readership with women. Looking to expand into that same age group but with men as well.
Topics may include: 
Healthy Lifestyle
Success Stories with famous or non famous people
Business Profiles
Self-Care and Love
Relationships- Divorce, Dating, Parents, Siblings Friends
Comedy
Short Stories
Words of Encouragement
Lists/Tips-Business, life, etc
Travel
More…
We are asking for writers to commit to at least one blog article per month on a topic of your choice. We may send out topic requests once we know what you are passionate about.
Posts are published M-F. We will make sure there is a variety in the publishings so that no one category is saturated. It will be reviewed and then published. Please include 1-3 photos per post and have featured photo. Be sure to site your sources for photos or or other documents.
When you are ready to commit please email with these details:
– Name you go by
– Social Media streams you want people to follow you on, including your website
– 2-3 Sentence bio
– Clear Head shot
– Areas you would like to start writing in, if you have no idea just say variety
Be sure to look over the website to see the different posts that have been made. We also, want to make sure your voice is heard so be original in your writings.
Currently this is an unpaid position but as the site grows, prayerfully funding will come in.
We will be sure to share with our followers and we want you to share with yours.
Thank you again,
CicelyRenee
Thanks for reading the BougieBlackBlogger a blog to inspire and encourage. Contact me if you need Social Media Marketing a speaker for events or blogging assistance.