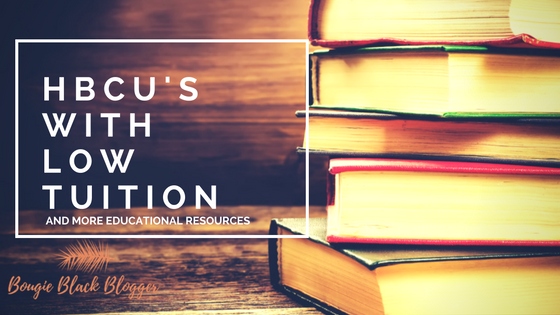 #HBCU #FINANCIALAID #COLLEGEPLANNING #COLLEGESEARCH 
---
This is for parents, guardians, students and more…
Looking to get out of your state and go to HBCU? You know, Out-of-State Tuition can be huge. Really wishing I knew more about the schools before NOT attending. One of my biggest regrets is not being brave enough to travel across the country by myself and go to college. But we are not talking about me, we are talking about you.
I did some research based on best financial fit when it comes to going to an HBCU. I am not promoting any of them, just saw the great deals and I don't want you to be in a lot of debt!! So here we go!
(Not in any particular order)
HBCU's with the best Financial standings:
Columbia, SC
Allen University offers a quality education at an affordable bundled price without excessive fees. Estimated annual costs are provided below to help undergraduate students plan for their attendance at Allen University. Exact costs will vary based on a student's status, room and board selections, and course of study.
Tuition, Room and Board + Fees is $19,500.00 a year and they have a flat fee for credits between 12-18 a semester.
Orangeburg SC
They are committed to excellence in STEM, so if you have a student that is interested in STEM careers this would be a great option.
Tuition, Room and Board +Fees is $25,000 a year
Tougaloo, MS
Tougaloo College is a private, coeducational, historically black four-year liberal arts, church related, but not church controlled institution. They are offering Pre-Law as well!
Tuition, Room and Board+ Fees $15,235- 17,025 a year
Lorman, MS
Alcorn eliminated out-of -state tuition so they could keep tuition affordable. Alcorn strives to prepare graduates to be well-rounded future leaders of high character and to be successful in the global marketplace of the 21st century.
Tuition and Room and Board $13,716- $15,908 per year at 12 credits each semester.
New Orleans, LA

The total enrollment at SUNO has grown every year since Hurricane Katrina. Despite projections that the University's enrollment would only reach between 1,200 and 1,500 students in the spring of 2006, more than 2,000 students returned to campus. SUNO's current enrollment is 2,704 students. The undergraduate academic programs are provided through the College of Education & Human Development, the College of Business & Public Administration and the School of Social Work.
Flat tuition fee 12+ credit hours for out-of-state is $8900.46, Room 2,265-4,310 Meals $1,150- 1,236 So you have some options.
For more rankings, visit US News.
Did you know that you could apply to 50 HBCU's with one application fee of $35? It is called Black Common App. With the Common App, you will have to pay each school's fees.
Tips for Applying to Colleges:
Know the career that you want to get into, or at least the industry. Nothing like going to college, the one you love and they do not have the majors that would lead into that. You want to choose a major that can lead to many career paths if you do not know what you want to be.
FAFSA, is a first come first basis and they do not look into the bills you have to pay. You get this EFC- Estimated Family Contribution and that is what the government thinks you can pay for your child's education. Fill it out soon to be able to get the PELL Grant if you are eligible. Towards the end of the year, they start to only qualify you for loans. Also, it is early this year, October 1 is when it will open. And you have apply for a FSA ID which is new and takes longer.
Be sure to know the dates for applying to schools. Many have later deadlines but you also want to see if they have scholarship deadlines on their website, those tend to be long before the application deadline.
Apply to at least 4 universities so that you can see the different awards that you are receiving. Hard to tell if it is a good package if you only apply to one school.
You can appeal your award letter! But you may not get a change but it doesn't hurt to try. Read this article on the Princeton Review.
Always apply for scholarships even if you are a junior in high school. Everything adds up. Check out this list of scholarship databases.
Websites for HBCU's
Want to attend a TCU? Tribal College and University
Tribes and TCU's
""Indian tribe" means an Indian or Alaska Native tribe, band, nation, pueblo, village, or community that the Secretary of the Interior acknowledges to exist as an Indian tribe pursuant to the Federally Recognized Indian Tribe List Act of 1994, 25 U.S.C. 479a."
Executive Order 13592
What about a HSI? Hispanic Serving Institution?
A Hispanic-Serving Institution (HSI) is defined as an institution of higher education that—
(A) is an eligible institution; and
(B) has an enrollment of undergraduate full-time equivalent students that is at least 25 percent Hispanic students at the end of the award year immediately preceding the date of application.
---
Be sure to check out my other blog on cool careers other than doctor and lawyer. I also have one on Life After High School. Stay tuned for more blogs about college and career!
Have more resources to share? Comment below.
Thanks for reading! It will be updated as I receive more information.
Be sure to share this!!!
Peace and Blessings,
CicelyRenee
Thanks for reading the BougieBlackBlogger a blog to inspire and encourage. Contact me if you need Social Media Marketing a speaker for events or blogging assistance.