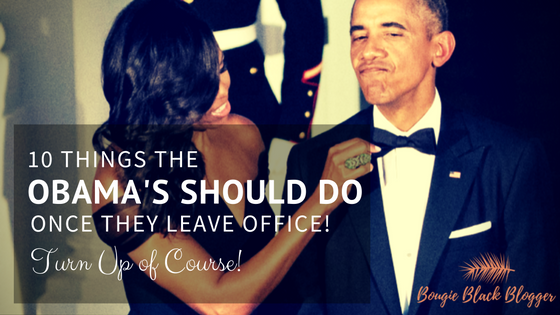 We get it, the Obama's had to save face, they had to switch it up a little, so that America wouldn't be so scared of the "Black Family" that was running the country. They couldn't snap the way we would if someone or a group of people stays disrespecting you. They have been humiliated, taunted, hated on, and everything else. No matter what good they did so many people saw it as bad. Even my people of color were disappointed in him as president, which was heartbreaking. Being president and the first family is HARD…. Malia Obama couldn't even go out dancing without people talking about the way she danced, the camera stayed on her.
Can you imagine being a child, black one at that, growing up in the White House, and not as a slave or a maid? There were many perks as well as many cons to growing up in the White House… Couldn't do anything without the secret service watching your every move. You have seen Scandal, you saw how hard it was to be sneaky and get Liv Pope in secret corners to do what they did.
Anyways, I am very sad to seem them go. The Obama's have imprinted on my soul and I look forward to them having peace and a good time without all the hateration in their lives.
What is different from now and 8 years ago is how big social media is. I feel like this will be a time where it plays a big part for what is to come. With that being said, here is what I think the Obama's should do after leaving office.
I really do believe they are so done with being president and need to turn up as such:
10 Things the Obama's Should Do After Leaving Office
Get on ALLLLLL Social Media Streams with the handles @ObamaStaysRunninDis and @ChelleSlaysAlwayz…. They will be on Snapchat, Twitter, Instagram, whatever it is because the world is about to lose all dopeness once they are gone. Ok, yes Jay and Bey hooked up Hillz (Hillary Clinton) but you watching the Obama's life, will be so

oo much more interesting.

They will start live streaming every challenge out there, the Mannequin Challenge, the So Gone Challenge and all of those new dances, because we know 'Chelle  has moves. Facebook Live will not know what to do with all the viewers! I am ready for them to break the internet.
Because 'Chelle has those moves and we saw her in that rosegold Versace dress and because ChelleSlaysAlways, she needs to have the Chelle's Workout Video series. The guest appearances should be Beyonce and Serena Williams. They will really get us to get our body moving. And Chelle doesn't have to hold back anymore!
They have been traveling, but I think they need to go to Colorado or New Amsterdam, learn the art of cultivating and growing weed, I mean medicinal marijuana and start a business and name all the strands after all the haters so we can all smoke them joints!
The Girls, Malia and Sasha need their own Youtube Channel telling all the secrets, and just going in on their lives. I think BuzzFeed or IssaRae should do a show on them! If you need help, I've got you! Like, I need to know what it was like for them to grow up in the White House.
Chelle needs to collab with Marjorie Harvey, and they just need a fashion line. These women know how to dress, they know fashion.
Barack needs to open up Daddy Obama Daycare and we just need a photographer in there just taking pictures all the time. We love seeing stuff like that. We know Barack luhs da kids and they love him.
The turn up has to be lit… I am going to need the Chelle and her boo Barack strollin in the club with Jay and Bey, Rhianna, Drake and all them… I want to sign into my SnapChat and watch them like…
Speaking of SnapChat… I want to see them use every filter, the puppy dog, the blockface, the flower headband… all of them and they need to post it DAILY… Do you hear me! DAILY.
I want them to go shopping at Wal-Mart and grab only 3 things and get heated when they go to checkout and there are only 3 cashiers and 100 people trying to buy their things and the cashier smacking their gums talking about their bae and what they did wrong last night and the person needs a pricecheck so they have to wait for a someone to come see what it is then go find the item and take their precious time coming back. (Sorry I can't stand Wal-Mart)
I really just want them to do them… I wish nothing but peace in their lives…. I want them to go on dates, the girls to go to parties and and school. Of course, they will never have a normal life but I hope it all works for them.
I am excited for their new chapter in life and pray nothing but the best. Chelle, I would love to hang with ya!!! If you are ever in Dallas or you want me to come see you, I got you boo!
What would you like to see the Obama's get into after they leave office? What is your best memory of them?
Thanks for reading, hope you enjoyed it. Be sure to share and comment!
Peace and Blessings,
CicelyRenee
Thanks for reading the BougieBlackBlogger a blog to inspire and encourage. Contact me if you need Social Media Marketing a speaker for events or blogging assistance.